Boston Bomber's Secret Ex-Girlfriend Comes Forward, Claims Tamerlan Tsarnaev 'Tried To Brainwash Me To Follow Islam'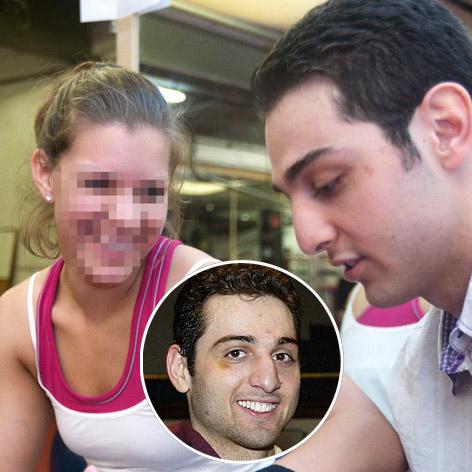 The secret ex-girlfriend of Boston bomber suspect Tamerlan Tsarnaev has made stunning revelations about her relationship with the alleged terrorist.
Nadine Ascencao, 24, told Britain's The Sun newspaper that her former boyfriend tried to "brainwash" her into converting to Islam and wanted her to "hate America."
And she claimed they dated while he was seeing Katherine Russell, the "all-American" girl he later married.
Article continues below advertisement
"I went to his mosque a couple of times and even looked into converting to make him happy," Nadine told the U.K. newspaper.
"I thought: 'This is crazy' – but I still did it for him."
Nadine started dating the boxer in 2006 when she was 17. Speaking of the man who was gunned down in a dramatic shoot-out with Boston cops, she said: "Tamerlan had taken my virginity and said he loved me because I was pure and hadn't been with any other guys.
"I was in love and scared he'd leave me if I didn't do what he said. Looking back I had a lucky escape."
Nadine also opened up about the volatile nature of their relationship, saying: "One minute he's this funny, normal guy who liked boxing and having fun.
"The next he is praying four times a day, watching Islamic videos and talking insane nonsense.
"He became extremely religious and tried to brainwash me to follow Islam.
Article continues below advertisement
"Tamerlan said I couldn't be with him unless I became a Muslim. He wanted me to hate America like he did."
The Chechen stopped her from watching TV or listening to music and insisted that she cover up and wear a hijab.
She also claimed Tamerlan once slapped her across the face. She called police and he spent the night behind bars. But when she dropped the charges he dumped her and moved in with Katherine whom he had secretly been seeing.
Despite their three-year relationship Nadine wasn't sad when her ex died. She said: "When they said Tamerlan was dead, I didn't cry."
radar_embed service=5min.com src="http://pshared.5min.com/Scripts/PlayerSeed.js?sid=1126&width=570&height=351&playList=517760304&sequential=1&shuffle=0"