Suri Cruise Lucky To Have Escaped Scientology, Says Leader's Niece Jenna Miscavige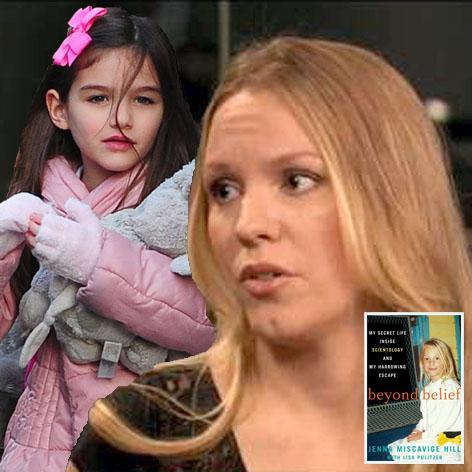 Jenna Miscavige Hill, whose blockbuster tell-all, Beyond Belief: My Secret Life Inside Scientology And My Harrowing Escape, is sending shockwaves through the controversial organization run by her uncle David Miscavige , is now saying Suri Cruise is fortunate to be away from the religion.
"I don't know what will happen to Suri in her relationship with her mother but I know the Scientologists tore my family apart." Jenna told the UK newspaper, The Sun.
Article continues below advertisement
She believes the adorable little girl had a lucky escape, getting out of Scientology when she did, as a result of her mother Katie Holmes divorcing devoted Scientologist Tom Cruise.
Before her own escape, she says, "Scientology had destroyed my life and taken away everyone that I cared about — my parents, my brother, my friends.
"I was born into Scientology," says Jenna. "When I was two my parents joined the Sea Orgs and were away working 14 hours a day. I was brought up in a Scientology nursery."
As RadarOnline.com has been reporting, Jenna's book recounts her bizarre youth. Torn away from her own parents when she was not much more than a toddler, she was raised with the kids of other Scientology VIPS, and saw her parents only a few times a year.
"I couldn't even go to the bathroom alone. I was forbidden to pick up the telephone just in case my parents — who had left the church by then — tried to call. Their letters to me were intercepted," she said.
Why would a parent want to put their child through something like what Jenna says she experienced?
Cruise, she told CNN's Piers Morgan either "does know what's going on and he's not talking about it or he is willingly ignorant about it. I mean, people who endorse an organization like this, I feel like they have a responsibility to know everything about it and know what they're endorsing."
Scientology officials are disputing Jenna Miscavige Hill's description of what it is like to be a child brought up in their religion. In a statement to RadarOnline.com they say, "The Church....does not engage in any activities that mistreat, neglect or force children to engage in manual labor...Claims to the contrary are false."