Katherine Russell: 7 Things You Didn't Know About Boston Bombing Widow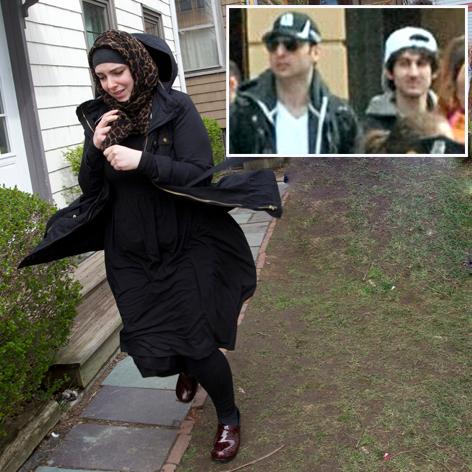 As federal agents continue their investigation into the Boston Marathon bombing, the focus is increasingly shifting to the woman one of the suspects left behind.
Katherine Russell - described as a one-time all-American girl - was married to bombing suspect Tamerlan Tsarnaev at the time of his death.
Here are seven things you may not know about the 24-year-old widow of the alleged jihadist who slipped through the FBI's net...
Article continues below advertisement
1. She Changed Her Name
Shortly after converting to Islam, the Rhode Island native changed her name from Katherine to Karima. The mom-of-one also took her husband's last name.
2. Religious Conversion
Despite widely being described as an all-American girl who grew up in a Christian household, friends who knew Katherine at high school says the college dropout wasn't religious at all as a teen.
Her high school art teacher Amos Trout Paine told the AP that his former student didn't seem interested in religion. "There was none of that with her. She was neutral," he said. Today she is a devout Muslim. Last week Katherine's lawyer Amato DeLuca said: "She believes in the tenets of Islam and of the Quran. She believes in God."
3. She Lived With Her In-Laws
Katherine lived with Tamerlan and his mom Zubeidat Tsarnaev in Cambridge, Massachusetts before the suspect's parents returned to Russia.
4. Her Mother-In-Law Loves Her
Zubeidat Tsarnaev has lavished praise on her daughter-in-law. She told ABC News: "She is a serious, good American girl who converted to Islam as if she had always been a Muslim. We all love her a lot."
5. Chatting On Skype
MORE ON:
Katherine Russell
Article continues below advertisement
Katherine and Tsarnaev reportedly spoke on Skype daily during his six-month stay in Russia last year when investigators fear he may have been meeting militant groups. His aunt Patimat Suleimanova told AP that during their chats Katherine encouraged her husband to observe his religious practices correctly whenever he lapsed.
6. Finding Out Her Husband Was A Suspect
According to her lawyer, Katherine found out her husband was one of the alleged bombers the same way the rest of the nation did, by seeing it on the TV.
7. Standing By Her Man
She married Tsarnaev in 2010 even though he has been previously arrested for domestic assault, a case that was later dropped because the victim refused to cooperate.