'May Allah Make Things Easy For You': Boston Bomber's Widow Finds Facebook Fans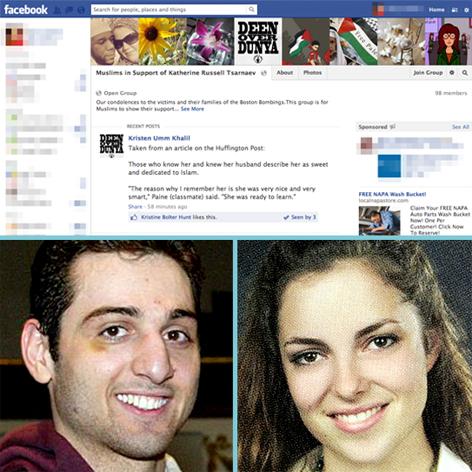 American-born muslims have established a Facebook page in support of Katherine Russell, the wife of suspected Boston Marathon bomber Tamerlan Tsarnaev, RadarOnline.com has learned.
The group, started on Thursday, quickly garnered almost 100 members who wrote messages of strength and encouragement.
"I love her as my sister in Islam and may Allah bless her and her family," wrote one follower, Kristen Umm Khalil, noting "even the most beloved wife of the prophet was slandered."
Article continues below advertisement
She added: "Have patience and be strong... if Allah is with you thats all you need!"
Allah is the Arabic word for God.
Another message, in Arabic, read: "May Allah make things easy for our dear sister Katherine and may Allah expose the truth wherever it may lie."
It emerged Friday that federal officials believe the widow of Tamerlan could have had some knowledge of the April 15 bombings that left three people dead and hundreds injured.
According to The Weekly Standard, the second suspect, Dzokhar Tsarnaev, 19, told interrogators that Katherine had seen the widely-circulated photos and videos on television of the then-unnamed bombers when they were still on the loose and called her husband to warn him.
"She notified him and there certainly didn't seem to be any notion of surprise – just a report that 'you're being watched,'" said one official with knowledge of the ongoing investigation.
Article continues below advertisement
An attorney for 24-year-old Katherine -- she was raised a Christian but converted to Islam after marrying Tamerlan -- has insisted that she knew nothing about her husband's twisted plans.
The Facebook group's founder said she created the forum so Katherine could know that "her Muslim community is supporting."
"I've really created this group after seeing all the criticism Katherine is under from the media and American public, as if she is as guilty as her husband for his alleged terrorism and the fact that the public is just waiting for her to give up her religion -- since it's widely believed she was brainwashed into becoming Muslim," the woman behind the page, Rachael Focht, said.
"I feel that I have too much in common with her...my heart goes out to my sister."
She added, "May Allah protect her from the media and give her strength and comfort to endure this difficult test. Amen."