Boston Feds Taking Another Close Look At Boston Bomber's Widow, Phone Call to Husband At Center Of Probe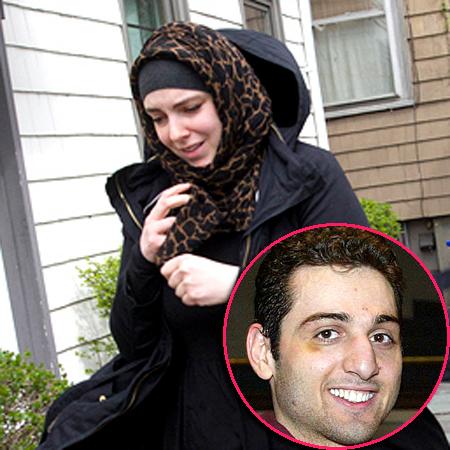 Did she know her dead husband and brother-in-law were behind the horrific Boston Marathon attacks?
That's the big question facing law enforcement officials who are now carefully reexamining any possible role that Katherine Russell Tsarnaeva played in the attacks, according to The Weekly Standard.
The Weekly Standard cites three federal officials -- close to the investigation -- as saying Katherine, the widow of bomber Tamerlan Tsarnaev, may have had some knowledge of the April 15 bombings that left three people dead and hundreds injured.
Article continues below advertisement
New questions about Katherine's possible involvement comes as a result of information provided by injured bomber Dzokhar Tsarnaev in his on-again, off-again interrogation by FBI officials before he was read his rights by a federal magistrate.
According to The Weekly Standard, Dzokhar Tsarnaev, 19, told interrogators that Katherine had seen the widely-circulated photos and videos on television of the then-unnamed bombers when they were still on the loose and called her husband to warn him.
"She notified him, and there certainly didn't seem to be any notion of surprise – just a report that 'you're being watched,'" said one official with knowledge of the ongoing investigation.
Authorities believe Katherine's phone call to her husband led to the brother's bizarre attempted escape from authorities which resulted in the murder of an MIT police officer, the robbery of a 7-11 store, a carjacking, shootouts with police officers, and the evential death of Tamerlan and the capture of his brother, Dzokhar, hiding in a boat.
Article continues below advertisement
An attorney for Katherine said earlier this week that she knew nothing about her husband's twisted plans and was cooperating with authorities in their investigation. "She is doing everything she can to assist with the investigation," her attorney, Amato DeLuca, said in a statement. "The report of involvement by her husband and brother-in-law came as an absolute shock to them all."
Meanwhile, Katherine, the mother of Tsarnaev's 2-year-old daughter Zahara, is staying with her parents at their North Kingstown, RI, which is under watch from both reporters and federal authorities.
As RadarOnline.com previously reported, the 24-year-old was raised a Christian, and converted to Islam after marrying now dead bombing suspect Tsarnaev, whom she met at a nightclub in 2009 while a student at Boston's Suffolk University.