Terror At The Boston Marathon: 7 New Developments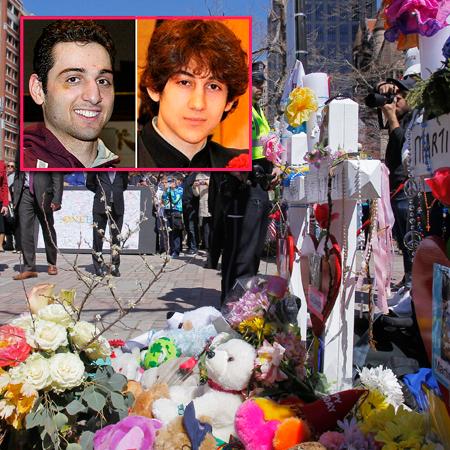 We've got all of Thursday's latest developments in the wake of the April 15 bombing at the Boston Marathon that left three people dead, more than 260 inured, and 14 people without all or part of a limb.
1. Latest On Three Teens Arrested
Three 19-year-old associates of Dzhokhar Tsarnaev were taken into custody Wednesday, as authorities said they helped the surviving bombing suspect get rid of empty firework remnants just three days after the bombing, and after they recognized him from the images officials released to the public.
Article continues below advertisement
Two of the teens, Kazakhstan natives Azamat Tazhayakov and Dias Kadyrbayev, were charged with conspiracy to obstruct justice by concealing and destroying evidence, while the third, Robel Phillipos, is accused of lying to federal investigators.
2. Smoking Gun?
On Kadyrbayev's a black BMW, officials found a novelty license plate with the inscription, "Terrorista #1." His lawyer Robert Stahl said the item had no connection to terrorism, but rather his party-hearty lifestyle.
Stephen Troio, a college student who lived in the same dorm with the Kazakh men two years ago, said they displayed little emotion and personality, but a big bankroll.
"They did have a lot of money," he told NBC News. "He wrecked like three Beamers and then bought another one."
3. Dishonor Roll
Phillipos, arrested in connection with making false statements in the bombing, was suspended from his educational institution, The University of Massachusetts at Dartmouth promptly after his arrest Wednesday.
Article continues below advertisement
His status as a student there remains "pending the outcome of the case," the school said.
4. Commerce With Conscience
Just as it did with dolls depicting southern slaves earlier this year, online auctioneer eBay has cast a hawk's eye on all auctions involving memorabilia from the tragic race, not wanting anyone to profit off the disaster.
They said in a statement Wednesday: "Out of respect for victims, eBay does not allow listings that graphically portray, glorify or attempt to profit from human tragedy or suffering. EBay's teams are monitoring related listings to ensure they comply with our policies and also taking into account reports from our community members.
"When a listing is brought to our attention that may go against our guidelines, we carefully consider the context and all of the details, and decisions to remove items are made on a case-by-case basis."
5. Candid Cameras?
Officials across the nation are pushing for more street surveillance after the Tsarnev brothers were essentially exposed by the release of footage from the race, and tracked down less than two days later.
MORE ON:
Dzhokhar Tsarnaev
Article continues below advertisement
"We want to be able to walk the good balance between freedom and security," Los Angeles police Deputy Chief Michael Downing, head of the department's counter-terrorism unit, said. "If this helps prevent, deter, but also detect and create clues to who did a crime I guess the question is can the American public tolerate that type of security."
6. No Slowing Down
Officials with the Boston Athletic Association aren't even considering closing up shop after the disastrous mayhem at this year's event.
"We're going to do this again -- this is not just about Boston anymore," race director Dave McGillivray said Wednesday. "The outpouring of support is overwhelming, to the point where we're challenged now with how to handle all of it, how to respond to it, how to direct these people who are looking to help."
McGillivray would not comment on future security measures, deferring to police and government officials.
Article continues below advertisement
7. Let's Work Together
Following the arrest of two Kazakhstan, the nation's Foreign Ministry said it will work with U.S. officials, saying in a statement, "Both Kadyrbayev and Tazhayakov are cooperating with the investigative bodies and providing them assistance."
"As we have repeatedly stressed, Kazakhstan strongly condemns any form of terrorism. The Kazakhstan side is cooperating with the U.S. law enforcement bodies in their investigation."
Watch the video on RadarOnline.com
|
|