Exclusive
Ann Curry Under Pressure From NBC Bosses To Secure First Interview With Angelina Jolie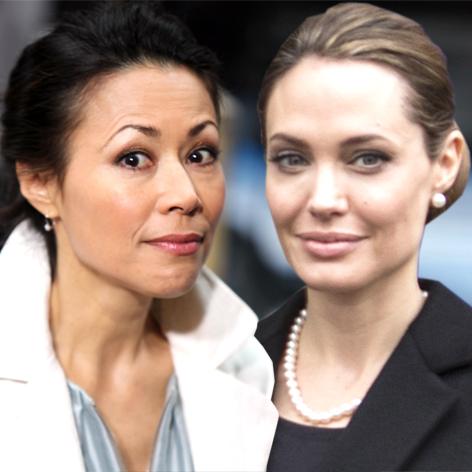 Ex-TODAY show cohost Ann Curry has been asked by NBC's top brass to secure the first interview with Angelina Jolie after she stunned the world with the announcement that she'd secretly had a double mastectomy, RadarOnline.com has learned.
The award-winning journalist -- dumped from TODAY last summer -- has interviewed Jolie, 37, numerous times over her careers.
Now, news division chiefs at the Peacock want Curry, 56, to capitalize on that close relationship and "convince her to give her first television interview about the procedure," said one source. The network is prepared to offer the Academy Award-winning actress a two-hour, primetime special for the interview, along with airtime on TODAY, the insider added.
Article continues below advertisement
"Ann would be prominently featured in all of the promotions and publicity if Angelina agreed to do it," the source said.
"Angelina made it known after Ann was demoted from TODAY that the only journalist to interview her from the Peacock network would be Curry."
Jolie revealed last Tuesday that she has had a preventive double mastectomy after learning she carried the "faulty" BRCA1 gene and had an 87 percent chance of getting the disease herself.
The partner to Brad Pitt made the stunning announcement via an op-ed in the New York Times titled, My Medical Choice. She revealed that between early February and late April she completed three months of surgical procedures to remove both breasts.
"My mother fought cancer for almost a decade and died at 56," Jolie wrote.
"She held out long enough to meet the first of her grandchildren and to hold them in her arms. But my other children will never have the chance to know her and experience how loving and gracious she was."
Article continues below advertisement
All of the major networks, including ratings-challenged CNN, are clamoring to get the first interview with the mother-of-six, another television executive revealed, noting 60 Minutes, CNN's Anderson Cooper and ABC's Cynthia McFadden have all expressed interest in securing the interview.
"Her first television interview will be a ratings bonanza," the insider said.
Unfortunately for NBC, however, a source close to Curry told RadarOnline.com that she isn't doing a full court press to secure the tell-all.
"Ann just doesn't operate that way," the source said. "Of course she'd love to do the interview with Angelina, but she isn't going to exploit her friendship with her to get it.
"Ann has sent flowers to Angelina and reached out to Brad Pitt's camp because Jolie doesn't have a publicist. If and when Angelina is ready to discuss the possibility of doing the interview, she knows how to reach Ann."