Former Victoria's Secret Angel Reveals The Horrors Of Modeling: Starvation, Posing Topless At 16, Forced To Sell Sex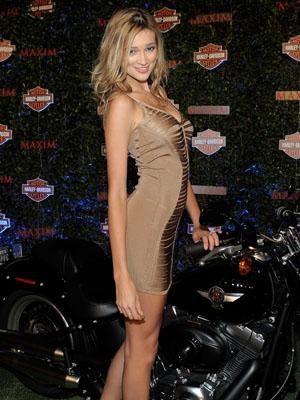 Article continues below advertisement
Kylie, who admits that she wanted to be a model at a very young age, moved to New York City when she was just a teenager and was thrust into the toxic world of top models.
"New York really opened my eyes to the dark side of the modeling industry," she admits. "One of my roommates was so bulimic she would involuntarily throw up when she ate. She would go to sleep crying every night and just look at herself in the mirror thinking that she was so fat. And she was so thin."
Bisutti, who had no problem staying away from temptations like alcohol, admits she experienced unwanted sexual attention from men in the industry.
"I had photographers and male models hitting on me constantly. Once, a photographer actually pushed me up against the wall and tried to kiss me."
Though she was attending church at the time and reading her bible, she was still talked into posing topless when she was only 16.
Article continues below advertisement
"I was so desperate to succeed in the business that I complied when my agent told me, 'All models have a topless shot.' I was only 16 when I posed for mine."
Maintaining a very strict diet of oatmeal, fruits and vegetables, Kylie, 5-foot-10, dropped to 115 pounds and still wasn't being booked for shows, so she asked her agent why she wasn't getting any jobs.
"It's because you look like a fat cow right now, Kylie. You need to lose 2 inches off of your hips," the agent told her. The comments made her turn to a starvation diet of just pineapples and watermelon, drowned with liters of water and paired with 12 hours of exercise a week. She ended up weighing 108 pounds and booking just minor gigs.
Bisutti met her future husband, a devout Christian, when she was only 18, and he encouraged her to enter the Victoria's Secret Angel search.
When she won, she was thrilled to be an Angel, and finally felt okay about her body image.
"The curves that made me 'too fat' by runway standards were perfect for Victoria's Secret," she explains.
However, the same day that she won, the reality of her new gig kicked in, and she was pushed by Victoria's Secret executives to "get together with" a celebrity whose eye she had caught at the after-party.
Article continues below advertisement
Despite having a husband, she was encouraged to play down her marriage and to flirt with "everyone all the time."
She details other disturbing incidents she experienced during the next few years, from ending up on a porn site because a photographer neglected to Photoshop an image of her in a sheer bikini -- as he said he would -- to coming to the sad realization that she was being sold as a sex symbol.
Two years after winning the contest, Bisutti decided to get out of the industry and sent out a tweet that read "I quit being a VS model to be a Proverbs 31 wife."
Bisutti, who currently lives in Montana with her husband, realizes that she sacrificed "millions of dollars" by hanging up her Angel wings but says she's "never been more content." Today, she's focusing on creating a Christian clothing line and is releasing a book, I'm No Angel: From Victoria's Secret Model To Role Model, on May 14.