Former Victoria's Secret Model: 'I Want To Honor The Lord'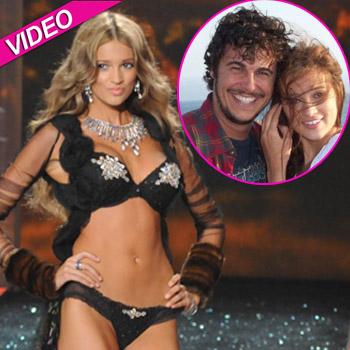 By Amber Goodhand - Radar Reporter
The former Victoria's Secret lingerie model and hardcore Christian who quit to save her body for her husband, reveals she will continue to model but only in ways that honor the Lord.
Kylie Bisutti, 21, appeared on Good Morning America on Thursday morning to discuss her decision to stop her lucrative modeling career, why she decided to quit, and how her husband Mike Bisutti feels about it.
Article continues below advertisement
"Growing in my relationship with the Lord and my faith… I just became so convicted about wanting to honor my husband with my body and wanting to be a role model for other women out there that look up to me," Kylie explained.
A vast contrast to a then 19-year-old and newly married Kylie who in 2009 beat out 10,000 other hopefuls in a Victoria's Secret model search saying: "I have a very sweet personality, but don't let that fool you. I want this, and I'll do what it takes to get it."
But Kylie said she had an 'Aha Moment' one day when her 8-year-old cousin was admiring her physique.
"I was doing my makeup in the mirror one day and she was watching me… She just looked at me and she was like, 'I think I want to stop eating so I can look like you,'" Kylie said.
"And it just broke my heart, because she looks up to me, I didn't want to be that type of person that she thought she had to do that to be beautiful. Thousands of girls that think being beautiful is an outter issue, and really it's a heart issue."
Article continues below advertisement
And if you think Kylie's husband was over-protective and jealous, forcing her to quit the lingerie business, you're wrong.
"He was so, so supportive of me and I'm just so thankful that he let me grow and let me come to this decision on my own," she said, noting that he's very happy about her decision.
This won't be the last you see of Kylie though, she plans to continue modeling — in more wholesome ways.
"I'm definitely going to pursue modeling," she said.
"I just want to be more wholesome about it and the jobs that I choose are always going to be honoring the Lord."
Check out Kylie's interview below…
RELATED STORIES: