Rutgers Hoops Coach's Homophobic Slurs 'Fuel Climate Of Hostility And Hate,' Says GLAAD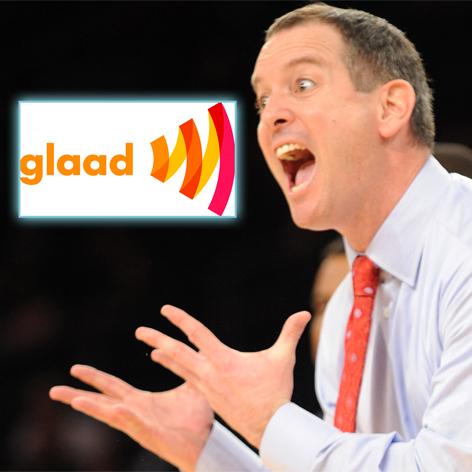 A horrific and homophobic rant by Rutgers basketball head coach Mike Rice that was caught on tape has not only outraged fans and university officials, but has disgusted gays rights groups by threatening the battle for equality in sports.
"Across the sports world, giant steps are being taken to ensure that LGBT fans and athletes feel safe and welcome," GLAAD's Aaron McQuade told RadarOnline.com after footage showing Rice shoving, kicking and throwing basketballs at his players, all the while cat-calling them with vulgar and homophobic slurs came to light.
Article continues below advertisement
"Anti-gay slurs are not only unacceptable, they're outright dangerous and fuel climates of hostility and hate, and incite fear and uncertainty in LGBT students, fans and athletes. Rutgers did the right thing today by sending the message that homophobia will not be tolerated."
As RadarOnline.com previously reported, the 44-year-old former coach at the esteemed New Jersey college was fired Wendesday after the highly offensive footage was aired on ESPN's Outside The Lines the night before.
"I am responsible for the decision to attempt a rehabilitation of Coach Rice," Rutgers athletic director Tim Pernetti said in a statement.
"Dismissal and corrective action were debated in December and I thought it was in the best interest of everyone to rehabilitate, but I was wrong. Moving forward, I will work to regain the trust of the Rutgers community."
According to CBSNews.com, Pernetti was first given a copy of the video in late November 2012 by a former employee.
Article continues below advertisement
After hiring independent investigators to analyze the tape, he suspended Rice for three games, fined him $75,000 and ordered him to attend anger management classes. University president Robert Barchi saw the tape and signed off on the initial punishment, but following the ESPN expose – in addition to new information and "a review of previously discovered issues" - Rice has now been fired.
The scandal comes at a time when many were hopeful for groundbreaking steps forward in the macho and often homophobic world of male-dominated sports – not a regression into archaic attitudes.
Last month, National NFL Insider and Enterprise Writer for CBSSports.com Mike Freeman revealed that an unnamed current NFL player is considering coming out in the near future despite the risk of negative responses both in and out of the locker room.
Although there have been openly gay athletes in the past (Greg Louganis, Martina Navratilova, Billie Jean King, John Amaechi, to name a few), most came out only after their professional careers were over.