The Pot Calling The Kettle Black: Farrah Abraham Offers Advice To Reese Witherspoon Following Her Arrest!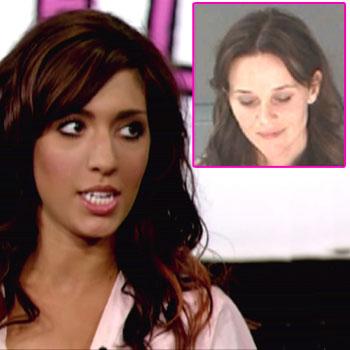 Troubled Teen Mom Farrah Abraham was arrested for a DUI in March, and following the weekend arrest of Reese Witherspoon, she offered the Oscar winner some advice about how to handle the controversial situation!
Reese, 37, was arrested on Friday for disorderly conduct while her husband, Jim Toth, was arrested for DUI, and she admitted in her apology that she "clearly had one drink too many."
Farrah, 21, was arrested in Omaha, Nebraska and blew a .147, while Reese's hubby blew a .139.
Article continues below advertisement
Farrah tweeted her own wise words to Reese, writing: "Not just the young having DUI issues, #AL Michaels & #Reese Witherspoon always try your best even in unexpected scary situations #FixIt."
Recently Farrah was trying to shop a homemade sex tape for profit, but once proper releases weren't obtained, she made a "legal" porn video that she says she wants $2 million for!
Reese has often spoken of being the "good girl," and at the 2011 MTV Movie Awards gave a speech touting her squeaky clean reputation.
"I get it, girls, that it's cool to be a bad girl," Reese said.
"But it is possible to make it in Hollywood without doing a reality show. When I came up in this business, if you made a sex tape, you were embarrassed and you hid it under your bed."
Do you think Farrah's advice will help Reese get through this difficult time? Tell us in comments!