Reese Witherspoon Puts On A Brave Face At Mud Premiere Following Weekend Arrest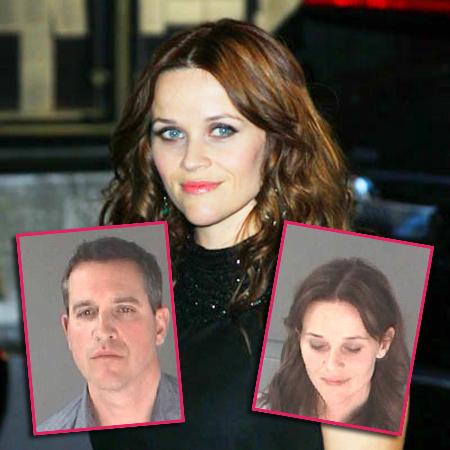 No doubt using all of her acting skills, Reese Witherspoon put on a brave face Sunday night as she stepped out for the first time after being arrested for disorderly conduct in Atlanta over the weekend, and RadarOnline.com has the pics.
DOCUMENT: Read Reese Witherspoon's Arrest Report
The Oscar-winning actress -- who was briefly jailed after refusing to obey orders from a police officer when her husband Jim Toth was pulled over for driving in the wrong lane -- put on a brave face for the New York premiere of her new film Mud.
Article continues below advertisement
Wearing a simple black dress and pumps, the newly brunette actress smiled as she arrived at the premiere with Toth before posing on the red carpet alongside costars Matthew McConaughey and Sarah Paulson and writer/director Jeff Nichols.
Witherspoon appeared in good spirits as she smiled for cameras, but did not stop to talk to reporters before heading into the theater.
Following her appearance, the 37-year-old actress released a statement, apologizing for her behavior to police after her Hollywood agent husband was arrested early Friday morning for driving under the influence of alcohol.
In the statement, Witherspoon admitted, "I clearly had one drink too many, and I am deeply embarrassed about the things I said.
"It was definitely a scary situation, and I was frightened for my husband, but that is no excuse. I was disrespectful to the officer who was just doing his job.
"The words I used that night definitely do not reflect who I am. I have nothing but respect for the police, and I'm very sorry for my behavior."
Article continues below advertisement
According to a state trooper's report from the Friday arrest, Witherspoon became agitated and disobeyed his verbal commands to stay inside the car.
The officer reported: "Mrs. Witherspoon began to hang out the window and say that she did not believe that I was a real police officer."
When officers handcuffed Toth after he was reported to have blown .139 on the sobriety test -- well above the legal limit of 0.08 -- Witherspoon got out of the car.
According to the arresting officer's report, Witherspoon asked the officer, "Do you know my name?" before warning, "You're about to find out who I am."'
The report also said Witherspoon resisted the officer, as he grabbed her arms to arrest her, as Toth tried to calm his wife.
Witherspoon said she couldn't comment further "out of respect" for the pending case, and her publicist, Meredith O'Sullivan Wasson, offered no other details.
Reese and Toth, 42, were released on bail early Friday morning in Atlanta, where Witherspoon is currently shooting her upcoming film The Good Lie.
The couple is not expected to appear in front of a judge in Atlanta at their-court ordered appearance but to request a postponement through their attorney.