Reese Witherspoon Arrested For Disorderly Conduct! Husband Jim Toth Busted For DUI! Read The Police Report!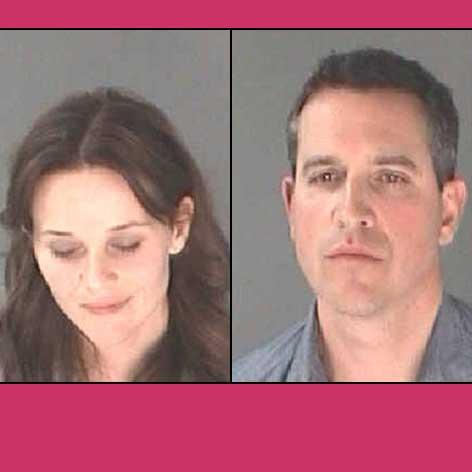 Reese Witherspoon and husband Jim Toth were both arrested in Atlanta, GA Friday morning.
Toth is facing a DUI charge after driving in the wrong lane! RadarOnline.com has confirmed.
CLICK HERE To Read The Arrest Report
Witherspoon was busted on a disorderly conduct charge according to a police report obtained by Radar. The actress was handcuffed after disobeying repeated instruction from the arresting officer to stay inside the vehicle.
Article continues below advertisement
Toth was pulled over just after midnight Friday when an officer witnessed his car weaving across a double line in downtown Atlanta. According to the police report, he appeared disheveled and his breath smelled of alcohol.
As her husband followed the cop's instructions to perform a field sobriety test, Witherspoon jumped into action.
"Mrs. Witherspoon began to hang out the window and say that she did not believe that I was a real police officer," according to the police report. "I told Mrs. Witherspoon to sit on her butt and be quiet."
She did neither, according to the report, instead stating that she "was a US citizen" and that she was allowed to "stand on American ground."
The officer then detailed how she resisted as he grabbed her arms to arrest her while Toth attempted to calm her down.
As the report details, "Mrs. Witherspoon asked, "Do you know my name?" I answered, "No, I don't need to know your name." I then added, "right now." Mrs. Witherspoon stated, "You're about to find out who I am."
Article continues below advertisement
The report also specified, "Mrs. Witherspoon also stated, 'You are going to be on national news.' I advised Mrs. Witherspoon that was fine."
Though he told an officer he had only a single drink hours earlier, Toth blew a .139 on a Breathalyzer test administered at the scene. He also is facing a second charge for failure to maintain a lane while driving.'
Witherspoon and Toth were booked by the Atlanta Department of Corrections, and both had to pose for mugshots.
They have a date at the Atlanta Municipal Court Monday morning but it is expected an attorney representing the pair will appear on their behalf and request a postponement.
Witherspoon is in Georgia shooting The Good Lie on location in downtown Atlanta.