A Little Nip Tuck? The Real Housewives Spill Plastic Surgery Secrets!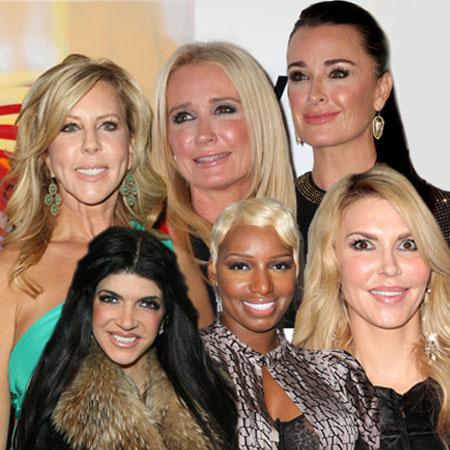 From sea to shining sea, you'll find members of the Real Housewives franchises constantly honing their faces, breasts, tummies and more for that right look for Bravo's cameras.
Without further adieu, we present to you a collection of housewives candidly dropping the dish about what kind of procedures they've undergone to avoid the battle of age.
While Minnie Mouse never got her ears done, her Orange Country neighbor Vicki Gunvalson said she's taken to a nip here and tuck there - including two breast enlargement procedures - because she's "always felt like she's not pretty enough."
Article continues below advertisement
Vicki, 51, told US Weekly her latest bout under the knife came after a co-star called her "Miss Piggy," rattling her self-esteem, and she's still licking her wounds from the painful procedure.
"I'm still numb, it'll take a full year to heal, but it didn't change me inside!" said Vicki, who hasn't ruled out future procedures to freshen things up.
Up Interstate 5, Beverly Hills beauties such as Brandi Glanville and Kyle Richards admit to some scalpel-borne improvements as well.
Kyle, 44, got a nose job in 2006, and liposuction to her midsection in 2012 after years of frustration trying to rid herself of love handles that piled up after four kids.
"I wanted to wear jeans and a tucked-in T-shirt and not feel self-conscious," she said. "I'm very happy with the results!"
Brandi, 40, admits she'd undergone medical procedures to her breasts in 2007, her private parts in 2009, and botox in 2010.
Article continues below advertisement
Head thousands of miles to the east and you'll still find high-profile housewives fresh off the operating table, in the form of NeNe Leakes and Teresa Giudice, the faces of their Real Housewives franchises in Atlanta and New Jersey, respectively.
"As long as you don't look plastic a little nip and tuck is OK," said 45-year-old NeNe, who had a breast lift, nose job and lip three years ago.
Teresa, 40, claiming nursing her three daughters led to "deflated" breasts, said she underwent a boob job in 2008, increasing her bust size from an A to C.
"I feel much sexier," Teresa told the magazine.
The Real Housewives of Orange County airs on Bravo Monday at 8/7c.