Vicki Gunvalson Shows Off Her 'Settled In' New Face Months After Plastic Surgery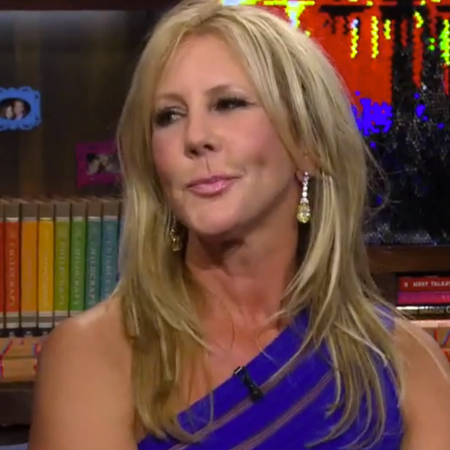 The Real Housewives of Orange County's Vicki Gunvalson unveiled her "settled in" new face on Monday night's Watch What Happens Live, and we have the clip for you right here on RadarOnline.com.
Calling the longtime reality star "The O.C.'s O.G.," host Andy Cohen announced, "Please give it up, for the new Vicki Gunvalson! You look good Vicki Gunvalson!
Vicki, looking refreshed months after the proceedure, said she had fat withdrawn from her sides and implanted into her face, as well as tweaks to her nose and chin."I just kind of closed my eyes and told doctors, 'Do what you think looks good," Vicki said.
Article continues below advertisement
Andy then replayed a clip of Vicki's castmates Tamra Barney and Gretchen Rossi mocking her new look, implying her jaw was shaped in a far too masculine manner.
Vicki said while watching the clips hurt her feelings, she admits she "shouldn't have been on camera right away ... just two weeks out of surgery."
She said comparisons to Jim Henson's Miss Piggy character made her self-conscious, leading her to the doctor's scalpel.
Watch the video on RadarOnline.com
The Real Housewives of Orange County airs on Bravo Monday at 8/7c. Watch What Happens Live airs Sunday thru Thursday at 11/10c on Bravo.