The Hardships Of Being A Model: Crashing On Coaches, Excruciating Loneliness And Failed Relationships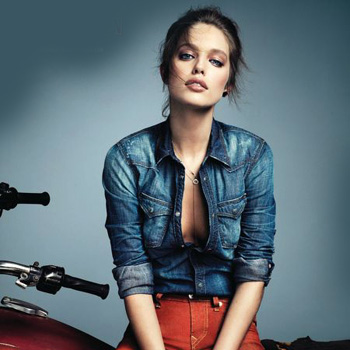 She may be stunningly gorgeous and get paid to look pretty, but Cecilia Singley's life is far from ideal!
The drop dead gorgeous swimsuit and lingerie model opens up to The Huffington Post's Ada Polla about the harsh realities of being beautiful, which include crashing on people's couches, being extremely lonely and being single because of men not approving of her career choice – and RadarOnline.com has the details.
Article continues below advertisement
"I sleep on someone's couch," she admits about her living situation. "I am not really in one place for more than 3 months (in the year I have been doing this, I spent 3 months in Miami, 3 months in Paris, and I have now been in NYC for about 5).
"The hardest thing about the lifestyle is that I don't know what I will be doing tomorrow. I am such a planner, but I can't plan, because usually the day's schedule is announced to me the morning of."
All the jet-setting takes a toll on her relationships, and the result is a very lonely lifestyle.
"The other really hard thing is that the lifestyle can be excruciatingly lonely, because people come and go so fast and it is hard to build relationships," she admits.
"When I got my first contract, I was in a very serious relationship with someone who did not approve of my career choice; he thought I was being exploited for my looks.Some guys have a really hard time letting their girlfriends be in front of the camera... I dated someone after that, but then I had to move to Paris, so it was long distance thing, and that didn't work out either."
Article continues below advertisement
However, she admits that there are some great things that come along with her glamorous job.
"There are also some amazing perks, such as being invited to the Cannes Film Festival, on ski trips, never really having to pay for a meal," she explains. "I do love those perks even if sometimes I feel guilty about taking advantage of them."
While other models admit to starving themselves to fit into sample sizes, Singley insists that she eats whatever she wants and that she has never had to go on a diet or exercise.
"I eat pretty much whatever I want, although I try not to eat massive amounts of anything," she maintains, mentioning she even eats bread. "But honestly, I am super low maintenance and I can't say I have ever dieted. It also helps that I enjoy eating healthy food.
"I do a lot of underwear and bathing suit work, so I need to have some meat on me (relatively!). In terms of exercise, again, I am very low-maintenance. I walk everywhere."
She also says that she doesn't discuss diet with her peers.
"Overall, I have to say that food and exercise are not talked about a lot between the models."
Despite her gorgeous figure, she explains that she mainly gets booked for photo shoots because of her physique.
"I really am not a runway girl. I have curves, and I look different than a lot of the typical runway girls, so I don't get booked for those that often," she explains, noting that she prefers photo shoots, "which can pay between $2,000 and $3,000 for an 8-hour day" versus the runway shows, where models are often compensated in trade.