Cara Delevingne On 'Nightmares' Of Being Supermodel: Walking, Exhaustion, Smiling & Worrying About Your Appearance!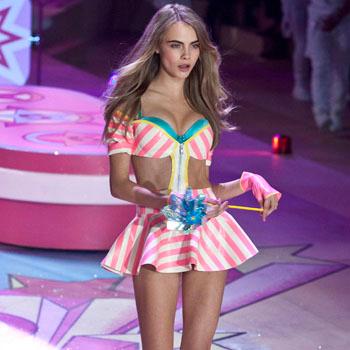 It's hard being really, really, really good looking….
The most talked about supermodel of the moment, Cara Delevingne, opens up in this month's Interview magazine about the nightmares of her job, which include walking, exhaustion and having to worry about what she looks like, and RadarOnline.com has the details.
"You've been walking a lot," the interviewer says.
"Left foot, right foot, left foot, right foot . . . That's all that's on my mind at the moment, just walking—it's mad," she responds. "This modeling thing, it's pretty easy, but actually it's also really tough. I mean, this has been really tough. That's the most embarrassing thing about it, like, 'This walking thing is crazy.'"
Article continues below advertisement
When asked what makes modeling so hard, the poser responds, "I think when I started modeling three years ago, it was just a job, and I was so excited—everything was so new, so crazy.
"I didn't overthink anything; I just did it and enjoyed myself along the way. But after a few seasons, you get used to it, and there's a lot you actually have to think about, and, I don't know, it just makes you much more aware of what you look like and what other people think. It's a bit of a nightmare."
Cara, who has walked in over 40 shows this season, tries her best to keep her energy level up, even when she hasn't slept.
"Even if I'm exhausted, I always try to go into a show with a smile on my face," she says about her good attitude.
"It's always good to try and bring the energy up. If I'm in a bad mood, people are going to act bad. The energy you give off is the energy you receive. I really think that, so I'm always myself—jumping, dancing, singing around, trying to cheer everybody up."
Despite her many friendships in the fashion industry with photographers and fashion people, she admits that it isn't exactly a normal business.
"This is, I think, the craziest industry," she explains. "I mean, I love it. The fashion industry is like a big, f*cked-up dysfunctional family, but everyone's mad and amazing, and everyone's so different. If you take the time to meet the people and learn about them, it's so interesting. All of the stories . . ."