Victoria's Secret Beauty Urges Girls Not To Model: They're 'The Most Physically Insecure Women On The Planet!'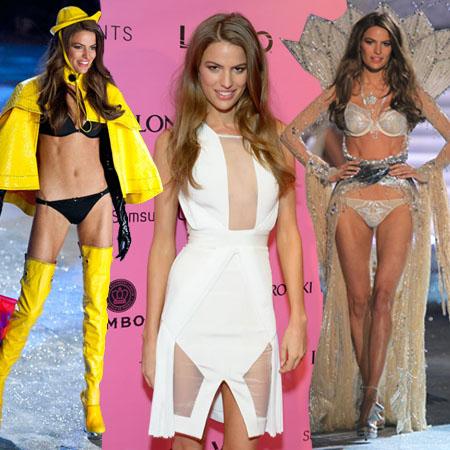 Being a supermodel isn't something to aspire to, warns a ten-year veteran of the catwalk.
In a recent TED Talk by international supermodel Cameron Russell, the 25-year-old Victoria's Secret model admits that although she may have won the genetic lottery, looks are superficial, and she would discourage any young woman from aspiring to follow in her footsteps, and RadarOnline.com has the details.
Russell, who graduated with honors in June from Columbia University after six years of studying part time, demonstrates the power of image by beginning her talk in a super sexy black dress before finally changing into something a lot frumpier.
Article continues below advertisement
"I was able to transform what you think of me in 6 seconds," she says. "How we look — though it is superficial and immutable – has a huge impact on our lives."
The statuesque stunner, who has been modeling for the likes of Calvin Klein, Ralph Lauren and Chanel since she was just 16 and admits perks such as getting free things her entire life just for being beautiful, as well as getting out of traffic violations, does not take any credit for her impressive career. In fact, she admits that she merely cashed in on her god given gifts.
"I always just say I was scouted, but that means nothing. The real way I became a model is that I won a genetic lottery, and I am a recipient of a legacy."
She also admits that being white helped her with her career, and that there are very few successful non-white models.
"For the past few centuries, we have defined beauty not just as health and youth and symmetry that we're biologically programmed to admire, but also as tall, slender figures with femininity and white skin. This is a legacy that was built for me, and that I've been cashing out on.
Article continues below advertisement
"Some fashionistas are like, 'Wait. Naomi. Tyra. Joan Smalls. Liu Wen.' But the truth is that in 2007 when an inspired NYU Ph.D. student counted all the models on the runway, of the 677 models hired, only 27, or less than four percent, were non-white."
She also sheds light on the harsh realities of the industry, and says that despite their gorgeous looks and beautiful bodies, supermodels are actually more insecure than most people.
"The thing that I have never said on camera is that 'I am insecure.' And I am insecure because I have to think about what I look like every day. If you ever think, 'If I had thinner thighs and shinier hair, wouldn't I be happier,' you just need to meet a group of models. They have the thinnest thighs and the shiniest hair and the coolest clothes and they are the most physically insecure women, probably, on the planet."
Article continues below advertisement
Russell, who is constantly asked by young women how they can be models when they grow up, discourages anyone from pursuing the superficial lifestyle.
"The first answer is: I don't know, they don't put me in charge of that. But the second answer, and what I really want to say to these little girls, is: why? You know, you can be anything," she says. "You could be the President of the United States or the inventor of the next Internet or a ninja cardio-thoracic surgeon poet, which would be awesome because you would be the first one.
"If after this amazing list, they're still like, 'No, no, Cameron. I really want to be a model,' well then I say: be my boss. Because I'm not in charge of anything and you could be the editor-in-chief of American Vogue or the CEO of H&M or the next Steven Meisel.
"Saying that you want to be a model when you grow up is akin to saying that you want to win the Powerball when you grow up. It's out of your control and it's awesome — and it's not a career path."
For more on Cameron Russell, watch her TED Talk on RadarOnline.com.