Michael Jackson Wrongful Death Lawsuit -- Juror Questionnaire Asks About Drug Use & Molestation Case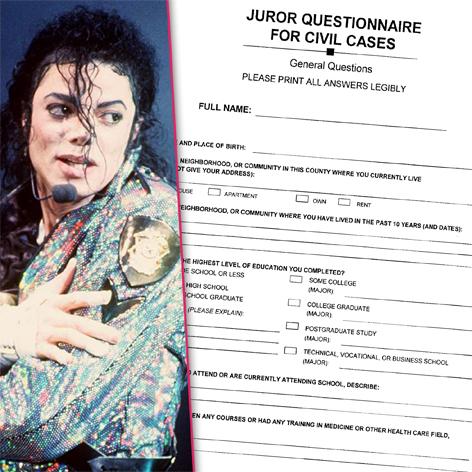 Prospective jurors in the $40 billion Michael Jackson wrongful death lawsuit that his mother, Katherine, filed against concert promoter, AEG Live, have been given a 29 page questionnaire to fill out - consisting of 122 questions ranging from the King of Pop's molestation trial to his alleged drug abuse - RadarOnline.com is reporting.
The lengthy questionnaire is being given to potential jurors in hopes of finding a fair and impartial panel to hear the case - as part of their defense strategy, AEG is going to present alleged evidence and witnesses to back up their claim that Jackson became dependent on drugs during 2005 when he stood trial on child molestation charges - and that it was around this time his downward spiral into addiction began.
Article continues below advertisement
Read The 29-Page Juror Questionnaire
Two groups of 35 potential jurors will be extensively questioned Tuesday as attorneys on both sides begin the grueling process of whittling down the jury pool to the eventual 12 who will sit in judgment.
Question 77 asks, "Have you ever heard/read/seen in the media any stories linking Michael Jackson and prescription drug dependency? If yes, please explain."
The questionnaire also asks if jurors are familiar with sleeping pills, Propofol, Diprivan, Valium, or Ativan, and if they know anyone who has been addicted to drugs or alcohol.
The molestation trial features in question 108, "Have you heard/read/seen anything about a 2005 trial/allegations in which Michael Jackson was accused of molesting a child? If yes, please explain."
Katherine Jackson is expected to attend the trial every day and Michael's two oldest children, Prince Michael, 16, and Paris, 14, are expected to testify. Jackson's youngest child, Blanket, will not take the stand.
Article continues below advertisement
As RadarOnline.com previously reported, Jackson died just two weeks before his This is It world tour, organized by AEG Live, was set to have kicked off at London's O2 arena in the summer of 2009 – it was to be the Thriller singer's much anticipated comeback.
Attorneys for Jackson's family maintain that AEG is liable for his death as the concert promoter hired Dr. Conrad Murray to be Jackson's personal physician throughout the tour — Murray used the powerful surgical anesthetic Propofol to help treat the singer's insomnia.
In November 2011 Murray was convicted of the involuntary manslaughter of Jackson, and was sentenced to four years in county jail.
Jury selection could take three weeks, with the trial potentially lasting up to three months.