Jury Selection Begins Tuesday In $40B Michael Jackson Wrongful Death Trial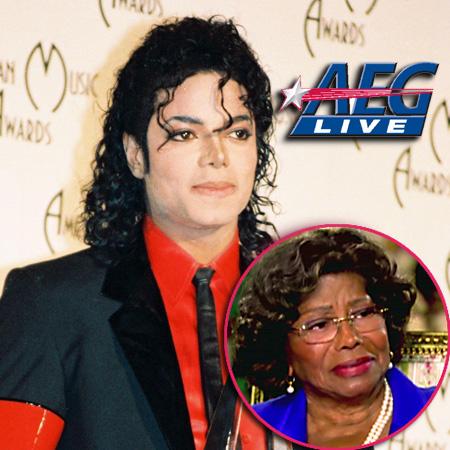 Jury selection begins Tuesday morning in the $40 billion dollar Michael Jackson wrong deathful civil lawsuit filed against giant concert promoter AEG Live by the King of Pop's mother, Katherine Jackson, RadarOnline.com is reporting.
Two groups of 35 potential jurors will be questioned Tuesday about their knowledge of the case, as attorneys on both sides begin the grueling process of whittling down the jury pool to the eventual 12, not including alternatives.
Article continues below advertisement
Katherine Jackson is expected to attend the trial every day, and Michael's two oldest children, Prince Michael I, 16, and Paris, 14, are expected to testify. Jackson's youngest child, Prince Michael II (also known as Blanket) will not take the stand.
As RadarOnline.com previously reported, Jackson died two weeks before his This Is It concerts, organized by AEG Live, were to have kicked off at London's O2 arena in the summer of 2009 – it was to be the Thriller singer's much anticipated comeback.
Attorneys for Jackson's mother, Katherine, and his three children, maintain that AEG Live is liable because the concert promoter hired and supervised Dr. Conrad Murray, who used the powerful surgical anesthetic Propofol to help treat the Billie Jean singer's insomnia. (Murray was convicted of involuntary manslaughter and remains behind bars.)
During the trial, AEG Live will aggressively fight the accusations it is liable for Jackson's death. The company is expected to bring up child molestation accusations against Jackson, for which he was acquitted after a trial, and evidence of his drug addiction, reports CNN.
Article continues below advertisement
"I don't know how you can't look to Mr. Jackson's responsibility there," AEG lawyer Marvin Putnam told the cable news network. "He was a grown man." Putnam was interviewed for Michael Jackson: The Final Days, a CNN documentary that will premiere this Friday.
"Mr. Jackson is a person who was known to doctor shop," Putnam added. "He was known to be someone who would tell one doctor one thing and another doctor something else."
The child molestation trial is relevant because it "resulted in an incredible increase in his drug intake," Putnam said.
"We're talking about Michael Jackson," Putnam said. "This is a man who would show up in pajamas. This is a man who would stop traffic and get out and dance on top of his car. This is a man who would go to public events with a monkey named Bubbles. This is a man who said he slept in an oxygen chamber."
Article continues below advertisement
The Jackson family claims Michael would have earned a staggering $500 billion dollars over the course of his lifetime had he not unexpectedly died on June 25, 2009, and that they would have reaped $40 billion of his vast fortune– hence the grand total the family is seeking in their lawsuit.
In defending itself, AEG Live's defense will claim that Murray was never officially an AEG employee, but rather was chosen and paid by Michael Jackson as his personal physician for nearly four years before the singer's shocking death.
Interestingly, Murray signed a contract with AEG only the night before Jackson's death to act as his personal physician while he performed 50 shows at London's O2 Arena in the second half of 2009 and into 2010; he was to be paid $150,000 a month.
However, although there was apparently an oral agreement, AEG executives and Jackson never signed the actual contract. Putnam said. The Jackson legal team will argue the signed contract was not necessary to establish employment.
Article continues below advertisement
In another twist, Murray had previously told detectives that it was his understanding that he was Jackson's employee, not AEG Live's, even though the concert promoter would actually be cutting his paychecks.
"He was chosen by Michael Jackson," Putnam argued. "He was brought to Los Angeles by Michael Jackson. He had been Michael Jackson's long-time physician and continued in that capacity and was directed by him and could only be fired at will by him."
AEG Live became involved with Murray only after Jackson had persuaded him to join his "tour party" for the This Is It concerts, Putnam told CNN. "Then what happens is AEG starts to go back and forth with him and his attorney, Dr. Conrad Murray, with drafts of contracts."
Los Angeles County Superior Court Judge Yvette Palazuelos will hear arguments for television cameras in the Los Angeles courtroom just before jury selection starts Tuesday morning. (Jackson's camp is expected to support cameras being allowed, while AEG Live is expected to fight it.)
The Jackson v. AEG Live trial could last two or three months.