Michael Jackson Was Addicted To Painkillers, His Mother's Lawyer Tells Jury In Opening Of Wrongful Death Trial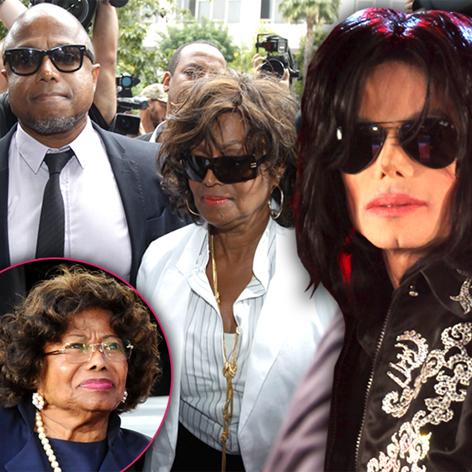 Michael Jackson had an addiction to painkillers and concert promoter AEG failed to properly investigate Dr. Conrad Murray, the doctor convicted of involuntary manslaughter in to the singer's death. That's what Brian Panish, the lawyer for Katherine Jackson, told a jury Monday in opening statements of Katherine's wrongful death trial against AEG.
Panish charged that AEG seemed to be the only ones claiming to be unaware of Michael's addiction, and that they are ultimately responsible for the tragedy as the superstar prepared for This Is It, a series of comeback concerts.
Article continues below advertisement
"His (Michael Jackson's) stirring voice, his musical genius, his creativity and his generosity and his huge heart was extinguished forever...You're going to hear the whole story about what happened in the death of Michael Jackson," Panish told the jury of six men and women, the AP reported.
Murray was convicted of the involuntary manslaughter death of Jackson, who died from acute Propofol intoxication in 2009 at age 50.
AEG maintains they were unaware that Murray was giving Jackson Propofol to help him sleep, and that the former physician is responsible for the death.
Panish revealed to the jury of six men and six women that Jackson had an addiction to prescription drugs, including Demerol, and relied on pain medications after he suffered horrific burns on his head during the filming of a Pepsi commercial in 1984.
Article continues below advertisement
"Over the years Michael family's and people who knew him believed he had a problem with prescription medication," Panish told jurors, and that AEG and its executives claim to be the only ones who were unaware of his issues.
The lawyer told jurors they would be responsible for determining who was responsible for Jackson's death.
"Michael paid the ultimate price. He died," Panish emphasized.
Katherine, Randy Jackson and Rebbie Jackson sat in the first row of the courtroom.
The Jackson family matriarch is suing AEG Live for $40 billion dollars, and Michael's three children are also listed as plaintiffs. AEG maintains it did not hire Murray and could not have predicted the events that led to Jackson's death.
Katherine, Prince, and Paris are all expected to testify at the trial.
A lawyer for AEG, Marvin Putnam, told jurors during opening statements that there was no way the concert promoter could have known that Jackson was being given Propofol by Dr. Murray.
"That was between doctor and patient and not AEG Live… this case is about taking responsibility for your actions," Putnam said.
The concert promoter contends it wasn't negligent in hiring Dr. Murray at Jackson's request and it is not responsible for his death.
Stay tuned to RadarOnline.com for developments.....
radar_embed service=5min.com src="http://pshared.5min.com/Scripts/PlayerSeed.js?sid=1126&width=570&height=351&playList=517761751&sequential=1&shuffle=0"