Exclusive
Secret Michael Jackson Voicemail: King Of Pop Caught On Tape 'Shopping For Drugs' Just Seven Weeks Before His Death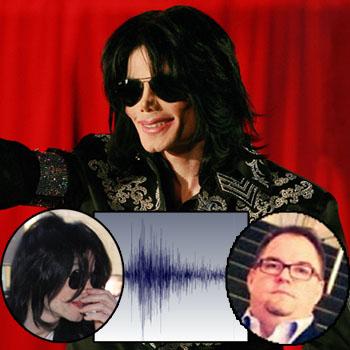 A slurring Michael Jackson made a frantic call to an aide of Dr. Arnold Klein just seven weeks before his death in a desperate attempt to reach a doctor.
This previously unheard voicemail, obtained exclusively by RadarOnline.com, shows the Thriller singer couldn't properly utter a short sentence on May 3, 2009 at around 11:06 a.m.
Jackson -- sounding almost unrecognizable from his voice of a generation -- begged Jason Pfeiffer, who worked for the singer's Beverly Hills, Calif. dermatologist Dr. Klein, to call him back.
Article continues below advertisement
"It's Michael. Err, I can't find Klein," said Jackson, who later died on June 25 at the age of 50.
"Um, I have a problem in the groin area, and I don't want to say this on the phone... inflamed area there, um, on a private... I don't want to say this on the phone. Get him to call me please."
After a brief pause, the legendary King of Pop murmured: "Thank you. Right away. Bye bye."
radar_embed service=5min.com src="http://pshared.5min.com/Scripts/PlayerSeed.js?sid=1126&width=570&height=351&playList=517745966&sequential=1&shuffle=0"
RadarOnline.com can reveal Pfeiffer has met with lawyers for AEG and is prepared to testify in support of the concert promoter which is preparing to defend itself against the Jackson family, who has filed a $40 billion wrongful death suit.
"Michael Jackson had a death wish," Pfeiffer, 39, told us, in an exclusive interview.
"I don't think any one person and certainly not anyone at AEG could stop that.
Article continues below advertisement
"No-one realized he was getting drugs from all these different places, and it was inevitable something was going to go wrong.
"I have deep sympathy of his children and family, but Michael was manipulative and overpowering when it came to getting what he wanted.
"I just wish I'd shaken some sense into him and saved his life, because he had so much to offer."
According to Pfeiffer, this voicemail is one of many "out of it" calls the drugged up Beat It singer made weeks before his demise, in which he shopped for drugs and begged for treatment -- even though Murray was in charge of him in his final months alive.
On one occasion, Jackson even pleaded with Klein's assistant for Propofol -- the powerful anesthetic which killed him-- telling him: "I do it all the time to sleep."
Pfeiffer was originally asked to be a defense witness in Dr. Conrad Murray's involuntary manslaughter trial, but Los Angeles Superior Court Judge Michael Pastor ruled him out, finding what happened in Klein's office was irrelevant.
But in the Jackson's civil trial against AEG, however, such testimony is expected to be introduced, which could make Pfeiffer and his claims relevant to the case.
Article continues below advertisement
AEG's lawyers plan to use Jackson's drug use history in their defense, arguing it showed Jackson was responsible for his own death.
Prince, 16, Paris, 15 and Blanket, 10, along with their grandmother, Katherine, claim "negligent" AEG bosses coaxed Dr. Murray into making Jackson perform, even though he was physically unstable.
"My role (as Klein's clinic manager) was to monitor Michael after he had Demerol," the ex-clinic manager told RadarOnline.com.
"He actually spent hours just lying on couches out flat or trying to sleep.
"The main reason he came into the surgery so often, was to get a fix of Demerol during his procedures. He begged everyone to give him it.
"He complained he couldn't sleep because his mind was racing constantly.
"By the end, it became like a fix for Michael; getting face fillers and botox surgery was an easy way of getting Demerol."
Article continues below advertisement
Pfeiffer said he's aware of instances where Jackson faked medical issues so that he could receive Demerol, a painkiller.
"Michael was an addict," he said.
"He always asked Klein to give him four times the regular amount even if it was for squeezing a spot or putting botox into his skin. Michael felt he was immune to normal volumes and begged for extra quantities.
"Sometimes some of our patients were groggy after shots, but never like Michael."
And Pfeiffer recounted how on June 14 -- just 11 days before his death -- Jackson begged him to procure Propofol, even though he was being treated by Dr. Murray.
"Around 7 p.m. Michael called me sounding harassed and flustered; he barely had time to say hello before he just asked for Propofol," he said.
"He asked me if he knew anyone that could supply him with that.
"Michael said, 'I do it all the time to sleep, and I wake up feeling refreshed. I have to be up for tomorrow.'
Article continues below advertisement
"When I said I couldn't help, Michael just shut me down and slammed the phone down on me.
"His voice sounded slurred and tired; I thought he was exhausted due to his rehearsals. On reflection it must have been drugs and I guess Dr. Murray didn't get him enough."
EXCLUSIVE VIDEO: Alejandra Jackson Spills Jackson Family Secrets
Pfeiffer said he never saw Dr. Klein administer intravenous drugs to Jackson, nor did he ever give him Propofol. Indeed, Dr. Klein has long insisted he personally tried several times to prevent other doctors from administering Propofol to Jackson to aid his sleep.
And even though Dr. Murray was charged with looking after Jackson for $150,000 a month from May, Pfeiffer said he never saw the cardiologist by his side.
"Dr. Murray never came along on any of his trips to Klein's clinic," said Pfeiffer, who previously claimed he and Jackson had a gay love affair.
"He obviously wasn't looking after him 24 hours a day, seven days a week and Michael never mentioned him.
Article continues below advertisement
"I spoke to him once when he rang to make an appointment for Michael.
"At first I thought he was a joke caller, but then Michael grabbed the phone, and said: 'Hey Jason this is Michael that was Dr Conrad. I want to come in.'
"So Dr. Murray knew what Michael was doing and must have had an idea about what he was doing to himself."
Speaking after listening to the recording, attorney Tom Mesereau, who successfully defended Jackson in the 2005 molestation trial, characterized the voicemail as an "interesting development" on the eve of the wrongful death suit.
"I don't know the circumstances surrounding how, when or where this voicemail was recorded, the only person that could answer that would be his physician, Dr. Arnold Klein," Mesereau told RadarOnline.com.
"I don't know if he was under the influence of anything when this message was left, but it's certainly an interesting development.
"AEG should have been more careful in the hiring and supervision of Dr. Conrad Murray.
"AEG was aware the Michael had substance abuse issues in the past. I believe that AEG is going to try and sully and dirty up Michael's name with drug abuse allegations.
"As for whether Dr. Klein should testify, we will have to see how the trial unfolds. Either side could call Klein, he would be a compelling witness who could have very valuable information."
Attorneys and a judge are currently selecting a panel of 12 jurors and several alternates to hear the case.