Ouch! LeAnn Rimes Says Brandi Glanville's Kids Call Her 'Mom' – Vows To Not Back Down In Ongoing War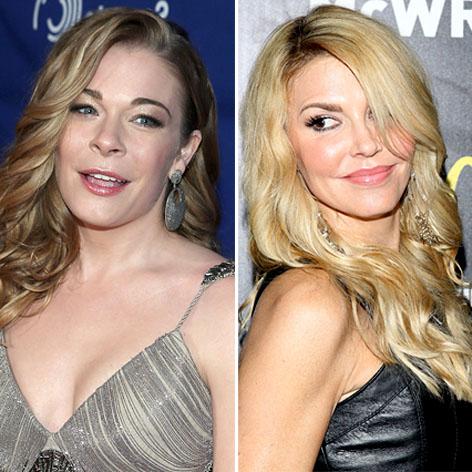 Somehow we're pretty sure this is not going to improve the relationship between LeAnn Rimes and Brandi Glanville!
LeAnn says in a new interview that Brandi's two children sometimes call her "mom," a statement likely to draw more wrath from her nemesis.
The singer, 30, also reveals that dealing with Brandi's "vocal feelings" toward her has been hard and forced her to stand up for herself.
"It's been really difficult," LeAnn answered when asked about dealing with Brandi's outspoken comments concerning her. (The two stars have traded brutal comments on Twitter and elsewhere.)
Article continues below advertisement
"You have to stand up for yourself and be your own person, but at the same time you have to protect these children and their hearts. And that's a very tough balance"
LeAnn made the comments to Fabulous magazine and when asked what Brandi's sons Jake, 5, and Mason, 9, call her, she answered: "Lee. Sometimes they'll blurt out: 'Mom!' but I just go with whatever they call me. As long as it's nice and respectful, I couldn't care less."
Mom?
The odds are pretty strong that comment won't sit well with The Real Housewives of Beverly Hills star Brandi, 40, who recently complained that LeAnn doesn't have any boundaries when it comes to her children.
"She just doesn't have boundaries when it comes to my children," Brandi said in an online chat with Okmagazine.com. "And it upsets me because it was like that even when I was still married to Eddie and they were together she was…tweeting things about them and texting me really horrible things saying 'I love the boys. I can't wait to make their lunches…'"
Article continues below advertisement
LeAnn seemed to strike back days later when she tweeted: "Supporting other step moms is not putting down bio moms. Some people seriously need to grow up."
Brandi has held back little – if any – of her negative feelings toward LeAnn, helping propel her book Drinking And Tweeting: And Other Brandi Blunders into a best seller.
And as LeAnn promotes her own work of art, her new album Spitfire, she's also talking candidly about the situation that began when she had an affair with Brandi's husband Eddie Cibrian and then married him.
Asked if she had any regrets about that situation, she told Fabulous: "I don't like that word. Do I wish I handled it differently? Absolutely. No one wants to hurt anyone or put themselves through hurt.
"I think the only other thing we could've done would have been to get out of our marriages before anything happened. It was tough, and it all happened very fast.
"I felt so ashamed and guilty."
It doesn't quite sound like an apology so stay with RadarOnline for Brandi's reaction.