Brandi Glanville: LeAnn Rimes Needs To Have Her Own Child To Learn Proper Boundaries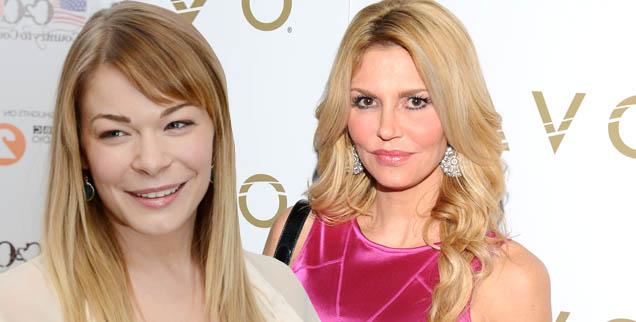 Brandi Glanville says she wants her public war with LeAnn Rimes and Eddie Cibrian to end, but before it does Brandi has one last message for LeAnn: you need to learn proper boundaries for a mother and stepmother!
In a new interview, Brandi – candid as usual – dished on her ongoing situation with her ex husband and LeAnn and also revealed that Bravo execs were furious with her for revealing her costars' salaries when she was interviewed by Howard Stern.
Article continues below advertisement
The Real Housewives of Beverly Hills star told Buzzfeed, "I got in big trouble," when asked about the network fallout of her revealing the paydays. "I got yelled at by Chloe, by Andy, by Alex, by Dave, by the other Dave — everyone!"
She also didn't hold back when it came to Rimes. "I really want to put this public war with LeAnn and Eddie behind me, and I want to communicate with them privately if they'll have me," she said.
But then Brandi, whose book Drinking and Tweeting and Other Brandi Blunders, is a best seller, told an anecdote about Eddie and LeAnn making out in front of her when she invited them over for Easter.
She expressed her displeasure over the couple continuing to proclaim their love in national interviews, as well.
"Eddie and LeAnn have done numerous sit-down after sit-down after sit-down. For the past four years, tell-all interviews — the crying, the "we love each other," the 20/20, the Katie Couric," she said.
Article continues below advertisement
The book gave her a chance to tell her side of the story, she says. And while she wants to take the situation private, Brandi made it clear that LeAnn needs to learn boundaries as a mother and stepmother.
"I think we both need to step away from it now," she said of their situation. "After the book and everything. Put it behind us and move on.
"Hopefully, they'll have a child of their own and she'll understand better what a proper boundary is for a stepmother and a mother."
Somehow, we don't think this is the end of it!