Brandi Glanville: LeAnn Rimes 'Doesn't Have Boundaries When It Comes To My Children'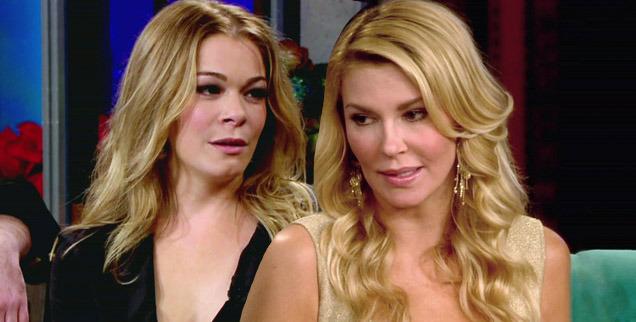 Brandi Glanville isn't done slamming love rival LeAnn Rimes for the country singer's relationship with her two little boys.
And the reality TV star clearly has a problem – not so much with the country crooner's ability as a stepmom – as she does with the way she assumed that role.
Brandi shared her thoughts with her fans during an online video chat with OK! magazine website.
The Real Housewives of Beverly Hills star, 40, was promoting her memoir, Drinking And Tweeting: And Other Brandi Blunders, when a reader asked if she thought her relationship with LeAnn would be different had the singer not slept with Brandi's then husband Eddie Cibrian, the father of their two children Mason and Jake.
Article continues below advertisement
The blonde stunner said: "I can't say how I would have felt about her had it not happened because it did happen. So I really don't know how I would have acted if he left me first and then got with her."
She added: "What it is, is how she just doesn't have boundaries when it comes to my children. And it upsets me because it was like that even when I was still married to Eddie and they were together she was…tweeting things about them and texting me really horrible things saying 'I love the boys. I can't wait to make their lunches…'
MORE ON:
The Real Housewives of Beverly Hills
"I just don't know how it would be any different because it didn't go down that way."
Brandi also admitted that deep down she knew the actor was cheating on her with LeAnn even before he came clean.
She said: "I always felt like he was cheating and I convinced myself that I was crazy. So I was just like: 'It's not happening…'