Exclusive
Jessica Simpson's Baby Shower Blues: Joe And Tina Simpson Can't Be In The Same Room Together!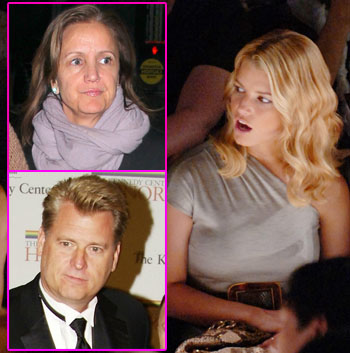 Jessica Simpson's baby shower plans have gone awry.
RadarOnline.com has learned exclusively that the singer-turned-fashion-designer is stuck in a dilemma. Jessica, 32, wants to invite mom Tina and dad Joe to the party, but her parents don't want to be in the same room together!
It's left Jessica deciding if she has to choose between the two, or not invite either.
"Jessica's got a big problem on her hands. She wants Joe and Tina to come to her baby shower, but they are kicking up a fuss because they don't want to see each other," a source close to the Simpson family tells RadarOnline.com.
Article continues below advertisement
"She's made all the arrangements for an elaborate party, which she spent a lot of time doing, but now her mom and dad are creating an unnecessary problem.
"Despite her differences with Joe, she still invited him to the baby shower because she wanted him to be part of the celebration.
"Jessica naturally wants Tina there, who she has grown closer to, since supporting her through the messy divorce.
"But they've both said they don't want to see each other and Jessica's been left with a conundrum. Does she invite only one of them, or tell both of them not to come? She's scratching her head at the moment," the source reveals.
As RadarOnline.com previously reported, Tina wrote a secret suicide note soon after finding out that Joe was having a gay affair.
Shortly before traveling to New York to confront Joe, 52, about his tryst with 21-year-old model Bryce Chandler Hill in August 2012, Tina scrawled a cry-for-help letter threatening to shoot herself after she discovered her husband's homosexual tendencies, a source close to the situation told RadarOnline.com exclusively.
Article continues below advertisement
In the note, Tina, 53, also said she wanted to shoot Joe, her husband of 35 years, for cheating on her, a family insider reveals.
"Tina was so distraught when she found out about Joe's secret gay affair, she immediately wrote a suicide note," an insider told RadarOnline.com.
"It was fairly detailed and she said she wanted to shoot herself for what Joe had done to their 35-year marriage. Worse still, Tina wanted to shoot Joe as well. She was just so angry with him.
"But, instead of killing herself, Tina headed straight to a New York hotel to confront Joe about Bryce Chandler Hill.
"However, when Joe returned to the Encino home in Los Angeles they shared, he found the note, made a copy and gave it to his divorce lawyer as a bargaining tool for the settlement."