Awww! XXX Teen Mom Farrah Abraham Posts Make-Up Letter From Mom On Twitter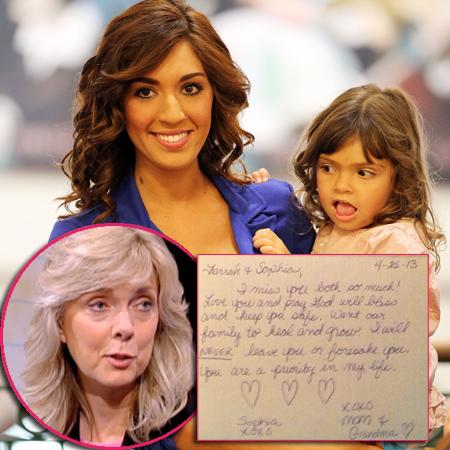 Farrah Abraham and her mother Debra Danielson have kissed and made up just in time for Mother's Day.
The Teen Mom-turned-porn star and her mother -- whose stormy relationship was closely chronicled on the hit MTV reality show -- had a falling-out after Farrah decided to get in the celebrity sex tape business via her taped romp with porn actor James Deen.
Earlier this month, Danielson denied early reports of her daughter's sex tape to a website, citing Farrah's strict religious beliefs.
Article continues below advertisement
But Danielson eventually found out the rumors were true, and Farrah moved out of her mother's home two weeks ago, telling a website she decided to leave after a counselor told her the situation was probably too toxic to remain in.
On Friday, however, things looked to be on the upswing with the mother-daughter combo.
"Awh look my #1st letter from my #Mom after moving:) #BIGDEAL xo," the sexy 21-year-old tweeted, linking to a picture of a handwritten note her mother had sent her.
The letter, dated 4-25-2013, reads:
Farrah & Sophia,

I miss you both so much! Love you and pray God will bless and keep you safe. Want our family to heal and grow. I will NEVER leave you or foresake you. You are a priority in my life.

XOXO Mom & Grandma
As we previously reported, Farrah has reportedly closed a six-figure deal with porn giant Vivid for distribution rights to her debut foray on film, titled Farrah Superstar: Backdoor Teen Mom.
Be sure to follow us on Facebook and tweet us @Radar_Online.