Exclusive
Don't Watch, Gramps! Farrah Abraham's 83-Year-Old Grandfather Says He's Disgusted By Her Porn Video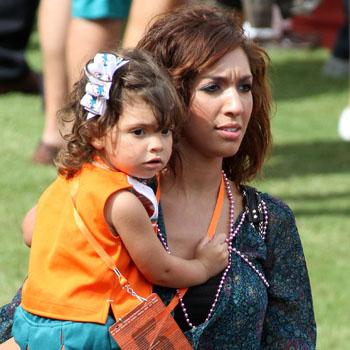 Teen Mom-turned-porn star Farrah Abraham's mother Debra Danielson isn't the only family member repulsed by her foray into the adult sex industry – her elderly grandfather is "disgusted" by her XXX-rated career choice, he tells RadarOnline.com.
Last week the 21-year-old single mom was seen packing her bags after she was kicked out of the family home in Nebraska following a blowout fight with her mother over the infamous sex tape.
Article continues below advertisement
Farrah's religious grandfather Donald Abraham, who lives in a retirement community in Arizona, is still sickened about her decision to participate in a sex tape.
"I'm disgusted by the whole thing," Donald, father of Farrah's dad Michael, told RadarOnline.com exclusively. "I don't know what she's thinking anymore and no, I won't be watching her on Dr. Phil today (Friday). I
"t's very difficult for me; I can't even talk about it."
Farrah, mother of 4-year-old Sophia, gets grilled by Dr. Phil on Friday.
The former MTV reality star's adult film career has caused numerous ramifications, says a source close to the family.
"Farrah is going down a very dark path," a source told RadarOnline.com. "She has no direction and clearly not making appropriate decisions."
But Abraham can count on the support of at least one person in her life. Her dad, Michael Abraham, told RadarOnline.com: "I may not like it, but the bottom line is that I love my daughter."