Exclusive
Farrah Abraham 'Believes Her Own Lies,' Says Ex-Pal She Tried To Recruit As Fake Boyfriend For TV Show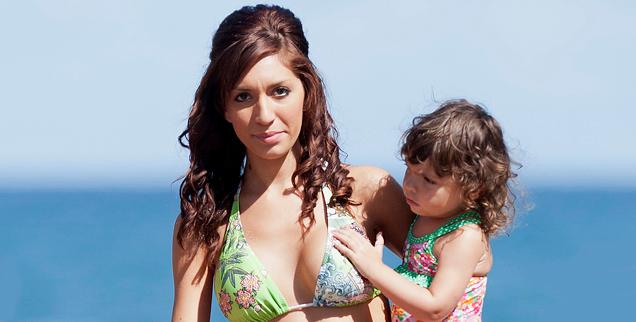 Troubled ex-Teen Mom star turned porn star Farrah Abraham is on a downward spiral perpetuated by her own delusion and hunger for fame, according to the man she tried to recruit to be her "fake boyfriend" for a VH1 show.
Carson Underwood, a 25-year-old aspiring actor, was friendly with Farrah for months until she tried to get him to fake a relationship with her so the two could get on VH1's Couples Therapy — and when he said no, that's when Carson says she became irate.
Article continues below advertisement
"Farrah truly believes her own lies ," Carson told RadarOnline in an exclusive interview.
"After numerous times bringing up that we were not in a relationship and never had been, she become enraged with anger."
As RadarOnline.com exclusively reported, when Farrah's plans to stay on reality TV fell through, she opted to make a porn flick with James Deen to keep herself relevant.
"Farrah never once gave off the vibe she'd attempt to go the Kim Kardashian route. I always assumed she would go back to reality," Carson said.
"It's unfortunate someone who displayed such ambition towards a career outside of entertainment would subsume into a plotted-scheme like this, both the adult tape and Couples Therapy."
Carson continued: "Knowing how the initial contact came about with VH1 asking Farrah if she had a relationship, which she said yes to, then seeking out a participant is just telling to her state of mind.
"How does one state a lie; then attempt to manipulate someone into a relationship to only then perpetuate the relationship merely for their own benefit? Then along the way, become so engulfed in a lie that she has convinced herself we were actually in a serious relationship.
Article continues below advertisement
"However, Farrah is either in it for the cash to offset the future cost of her legal trouble or purely hoping her career will skyrocket."
The legal trouble Carson is talking about is Farrah's recent DUI, in which she was arrested on March 18 in Omaha, Neb. after she just missed careening into a police car after a sloppy turn, authorities said, according to reports.
Farrah later tried to excuse the drinking and driving incident by claiming, "Because I'm sick, I could not give an accurate breathalyzer test, due to coughing and shortage of breath."
Carson told RadarOnline.com that during the times he spoke with Farrah via Skype, telephone or text — because they only met in person once — the conversations were short-lived because of "the amount of nonsense she spouted off."
"I can assure you if I spoke to Farrah today she'd probably attempt to deny the situation or try to state we were actually in some elaborate (though, she doesn't know what the word means) relationship," Carson said.
A source close to Farrah questioned Carson's motivation to come forward, saying: "Carson doesn't even know her to be making such comments. He's an opportunist trying to find his five minutes of fame."