Before Scientology Came Catholicism! Tom Cruise Was Studying To Become Priest, But Was Reportedly Asked To Leave Seminary!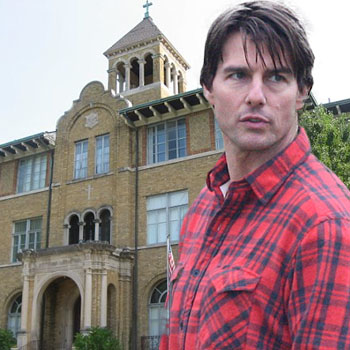 Article continues below advertisement
"Tom was instantly hooked," Father Ric Schneider, who persuaded a young Tom to apply to St. Francis Seminary School in Cincinnati, Ohio, told the NY Daily News.
"I think he wanted a good education. With his parents going through a divorce, it was tough on him, that's maybe one of the reasons why he came here."
In 1976, Tom only just managed to squeeze his way into the seminary after scoring 110 on an IQ Test – the lowest result permitted in order to gain entry.
The Daily News reports that Cruise didn't excel at all as a student during his time there, but did show immense promise as an actor, which in the end would make him one of the biggest stars in the world.
Cruise "came out of his shell" and was a leading member in drama club where he participated in competitions with other institutions, according to friend Shane Dempler.
The priest who ran the drama club even gave Cruise whole plays to memorize – that's how impressed he was by his acting skills.
Article continues below advertisement
Dempler told the Daily News that he and Tom were both deeply interested in Catholicism and were both interested in joining the priesthood.
"He had a very strong Catholic faith," he said.
"We went to Mass, spent time in the chapel and enjoyed hearing stories from the priests."
But the two would consistently break the rules and would often sneak out of school to smoke or drink alcohol, Dempler said.
The straw that broke the camel's back came in 1977 when Cruise and Dempler took advantage of the fact that the monks were throwing a party.
Dempler claimed he creeped in to the room where the liquor for the party was being held and threw it out of the window to Cruise.
They had to 'fess up to stealing the booze though after a priest collared other students who were caught drunk and asked them how they managed to get their hands on the alcohol.
This forced the seminary to write to both sets of parents asking them to remove the troublesome students from their school, Dempler said.
"The school wrote a letter to our parents saying they liked us both, but would prefer if we didn't return," said Dempler. "So we weren't kicked out, just preferred not to go."
Cruise has never commented about his Catholic past, nor his time at St. Francis.