Not A Great Cover Girl! Taylor Swift Has Trouble Selling Magazines, Relationship With Harry Styles Blamed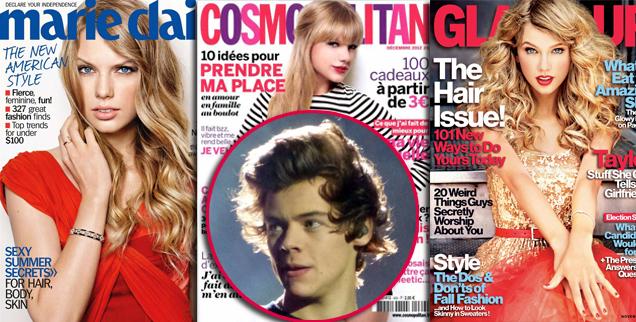 She may sell more records than almost any other musician, but when it comes to her cover girl magazine selling skills Taylor Swift isn't exactly the cats meow!
The 23-year-old, who is famous for penning spiteful songs about her ex-boyfriends and talking extensively about love in interviews, has been featured on the cover of several top magazines over the last few months, but her star power isn't winning over the readers. According to Women's Wear Daily, Swift's covers are selling significantly less than other stars – including Lauren Conrad, Victoria Beckham and Lady Gaga – and one editor even goes as far as to say it was her relationship with Harry Styles that is to blame.
Article continues below advertisement
WWD examined the numbers for average magazine sales by the publisher's statements to the Alliance for Audited Media for Vogue, Glamour, Harper's Bazaar and Cosmopolitan, all of which have featured the country singer on their covers in recent months, and determined that Swift's issues did not do nearly as well as those featuring other celebrities.
"For Vogue, Swift sold 329,371 copies, digital sales included, which was a little above the six-month average that ended in June 2012, but no match for Lady Gaga, the magazine's top seller last year, with about 602,000 copies," WWD explains. "Or for that matter, Adele, the second-best seller with 410,343."
To be fair, what WWD does not point out, is that Lady Gaga covered the fashion magazine's famous September issue, which is hands down, Vogue's top-selling issue of the year.
The same goes for Glamour and Bazaar, where they compare her cover sales to those of the September and May issues.
"Swift did OK for Glamour in November — but with a little over 443,000 copies, she couldn't beat reality TV star Lauren Conrad in May who was the year's runaway best-seller (a little over 500,000), or designer and former Spice Girl Victoria Beckham in September (about 482,000).
Article continues below advertisement
"Ditto for Bazaar — Swift sold 138,412 copies, a little above the average for the period, but far below Gwen Stefani's September (166,365)"
However, they do mention that her December cover for Cosmo was the racy magazine's most underperforming issue of the year, selling 20 percent below the sex-month average.
So why did Swift's covers sell so dismally?
"There may have been a little hiccup for her right around the 1-D relationship," Glamour editor in chief Cindi Leive, dished to WWD about Swift's fling One Direction star Harry Styles. "But it's nothing a pro can't come back from. I'd put money on her for the long run."
Do you think Harry Styles is to blame for Taylor's lack of magazine sales? Sound off below.