Exclusive
Is Tara Headed Back To Rehab? Friends Fear Reid Is Partying Way Too Hard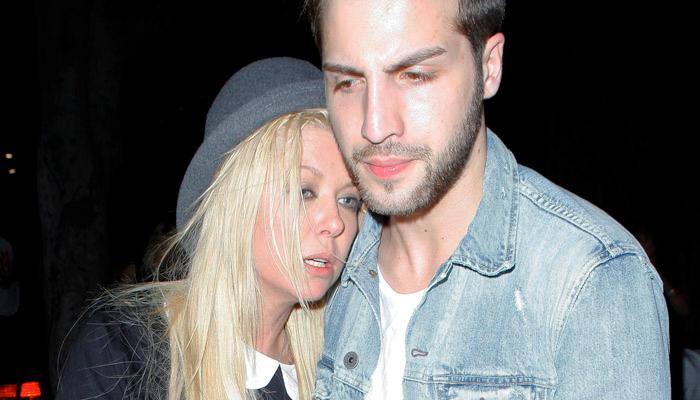 Is Tara Reid headed to rehab once again?
The American Pie actress was spotted looking decidedly worse for wear, bare foot and disheveled, as she left Hollywood hotspot the Emerson Theatre Wednesday night, propped up by friends, seemingly unable to walk on her own - and X17 managed to snap pics of the hot mess.
Reid is renown for her hard partying ways — in 2008 she checked into Promises for a stint in rehab, later claiming it "saved her life" but friends are concerned that the struggling actress is once again hitting the bottle way too hard and are urging her to get help — STAT — RadarOnline.com is exclusively reporting.
Article continues below advertisement
"Last night's episode at the Emerson wasn't a one off," a close pal tells RadarOnline.com. "Only a few weeks ago, Tara was sat at a VIP table next to the DJ slurring her words, unsteady on her feet and propped up on a friend's shoulder most of the night.
"Everyone's really concerned for her right now and we've all told her that she needs to calm down with the partying.
"The way Tara's behaving at the moment, she's going to have to head back to rehab for treatment if she doesn't get a grip on things — and more than a few pals have told her that, but she's just ignoring everyone and continuing to do her thing.
"So, for now, all we can do is keep a close eye on her, see how she is and hope that she's just going through a phase, and she'll come to her senses again soon enough.
"It's really tragic seeing her like this - after all, she's 37 now. It's not cool to be seen staggering out of nightclubs at that age," the source concludes.
As RadarOnline.com previously reported, Tara was seen looking like a hot mess at the Stockholm Pride Festival last August.
The New Jersey native took a massive spill on stage and exposed her panties to thousands as she joined her friends Jedward on stage.
Before that, she was seen partying up a storm with the Irish duo in the South of France, wearing a bizarre pair of angel wings in St. Tropez.