What The Devil? Tara Reid Dons Angel Wings On St. Tropez Vacation With Jedward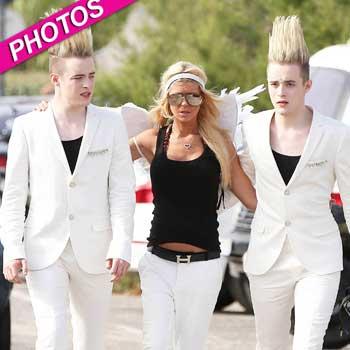 Has Tara Reid taken flight of her senses? Sporting angel wings, the famed party girl strutted around St. Tropez yesterday with the Irish singing duo Jedward, who had their blond hair gelled up into nearly foot-high spikes!
The American Pie starlet wore white pants and a black vest while her 20-year-old identical twin companions were head to toe in the virginal hue.
Tara became friends with Jedward, real names John and Edward Grimes, when she appeared with them last year on Celebrity Big Brother in the UK. The boys became famous when they were contestants on the UK edition of The X Factor in 2009.
Article continues below advertisement
The threesome has been seen in the French city over the past few days lapping up the luxury lifestyle on a pimped out yacht.
"Just jumped of our boat into the sea it felt amazing with @planetjedward the best guys in the world I'm a lucky girl," Tara tweeted.
As RadarOnline.com previously reported, Reid has been partying up a storm in St. Tropez for a few weeks.
She very publicly went to Promises rehab center in 2008, even selling a story about her time there to a celebrity magazine.