Florida Sinkhole House Being Torn Down -- Heartbroken Family Told Victim's Body Will Never Be Recovered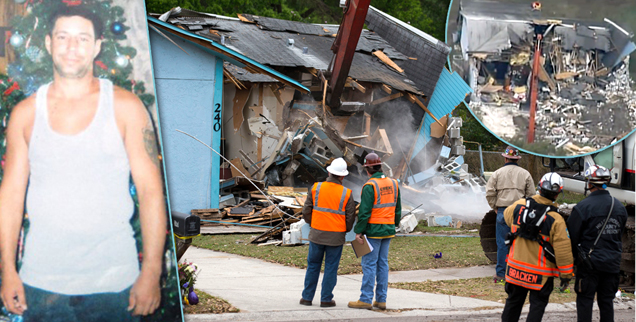 Crews in Seffner, Florida are tearing apart the home in which a 37-year-old man died Thursday after he was devoured by a 20-foot-wide sinkhole -- and adding to the tragedy the victim's family has been told his body will never be recovered, RadarOnline.com is reporting.
Demolition experts are dragging the remainder of the house to the street to save whatever family valuables are left inside, Hillsborough County spokesman Willie Puz said Monday.
Article continues below advertisement
The victim, Jeff Bush was killed Thursday night when the ground opened up below the house and swallowed him, as he attempted to save his brother.
On Sunday, authorities removed items from the decimated home including a Bible, photos and a pink teddy bear, as dozens of family, friends and neighbors watched on. Bush's brother Jeremy was accompanied by police to the front of the home, where he got on his knees and prayed in front of a memorial erected in his brother's memory.
Officials have surveyed the sinkhole from the inside, but remain unsure of its' total size and depth. No plans have been announced yet as to how authorities plan to deal with the two neighboring homes.
Officials canceled the search for Bush's body Saturday, and Hillsborough County Administrator Mike Merrill has subsequently announced that it's "really not possible" it would be recovered from the wreckage due to the nature of the incident.
Article continues below advertisement
"We're dealing with a very unusual sinkhole," Merrill said.
"I tried my hardest to get you out, brother," Jeremy tearfully said at a news conference on Monday, reported ABCNews.com.
"I think I'm the only one that really tried to get you out. They said the ground was too unstable to do anything, but they got all this heavy equipment on there, pulling stuff out and everyone's cheering for everything that's coming out of the house. I've had enough of the cheering.