Fallen NBA Star Robert Swift's Financial Ruin Caused By Parents' Greed, Claims Ex-Coach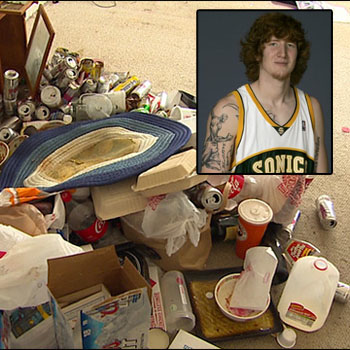 NBA player Robert Swift went from the top of his game to living in dirt and destitution before getting turfed out of his home for mortgage non-payment -- and now his former high school basketball coach is claiming that the athlete's life crisis was caused by his parents' fatal greed.
Bruce and Rhonda Swift fell "into the trap of chasing money," Gino Lacava alleges, claiming they became hypnotized by the $4.4 million offer that the Seattle Sonics gave their then 18-year-old rising star son.
Article continues below advertisement
Now 27 and broke, 7'1" Swift has hit the headlines for all the wrong reasons after losing his home to foreclosure and instead of succumbing to the bank's demands to leave, squatting in the mansion and transforming it from a desirable home to a den of inequity.
"He was a millionaire and he's broke and he has 50 years of his life to try and make ends meet… I feel horrible for him," Lacava says of the sad situation, according to the Mail Online.
As RadarOnline.com previously reported, Swift was forced from his $1.4 million home in Sammamish, Washington earlier this month because he owed $168,000 on his mortgage despite earning $20 million during his short career as a basketball pro.
When the new owners bought the house in January for half the original price, it was already in a terrible state, with trash piled high all over, rotting food, pools of human waste, beer cans covering the grassy lawn, bullet holes piercing the garage window, and Chevrolet El Caminos with missing engines sat unmoving in the driveway.
Article continues below advertisement
Lacava claims that his former student's spiral into inequity began after he became a target for "curiosity seekers" who took advantage of the once ambitious high school athlete who had dreams of going to the University of Southern California in Los Angeles, but instead went pro after being pressured by his parents.
Describing the Swifts as "middle class at best" and "not well to do by any means," Lacava claims the air conditioning mechanic and his wife wanted their son to skip college in favor of earning the big bucks.
"I honestly think the parents did want him to go to the NBA," Lacava says.
"They got tied in with these Amateur Athletic Union coaches who were constantly throwing around free offers and shoes and all the money and I think to them...it seemed like free money. He was a well rounded, polite young man when he was at school. Whatever has happened past that is beyond me, there is no question it would have been better if he went to college
Article continues below advertisement
"He could have built up his strength, got some schooling under his belt so that if he washed out he could have gone back and finished at a later date."
After moving to Oklahoma City when the Sonics became the Thunder, Swift's glittering career was cut short in December 2009 following repeated knee injuries. He went on to play for the Tokyo Apache in Japan during the 2010 – 11 season but has since slipped into obscurity.
Keen to offer his support to the troubled center, Lacava says if he ever speaks to him again he will tell him: "Big guy, I'm here for you, I always have been.
"What can you say? The damage is already done. He is only 27 so he could be playing in Europe, playing for a few years and getting back into it," he tells the Mail Online. "If he could cut it in the NBA he could still be playing somewhere."