Smile For The Camera! Maddie The Acrobatic Coonhound Becomes An Internet Sensation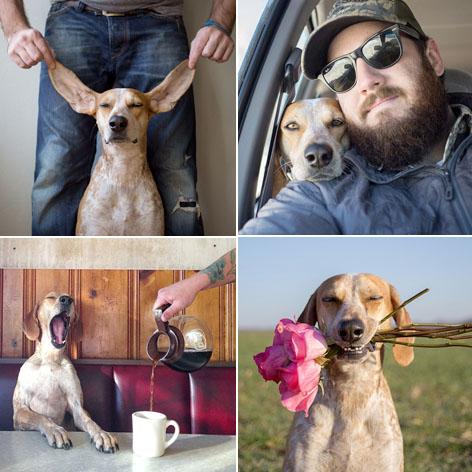 It is far from a dog's life for this popular pooch, who has over 180,000 eager followers tracking her every (paw) step.
Maddie the Coonhound has become a huge hit on Instagram thanks to her acrobatic talents and the artistic skill behind the lens of owner Theron Humphrey, who has now created a website in her honor called Maddie On Things.
As the name so clearly suggests, the site is a collection of amazing photos of the talented dog as she expertly balances on everything from a pile of books to a cluttered desk, a basketball hoop to a gas pump – and even on the shell of a giant turtle!
Article continues below advertisement
Maddie can also be seen posing in the snow, or sticking her head out cheekily from a recycling canister.
Her artistic adventures began while on a road trip, photographer Humphrey decided to pose his now two-and-half year old dog on top of his truck, hoping she would oblige long enough to capture a quick photograph. He quickly realized he had underestimated his pet as she balanced like a perfect statue, reported Mashable.com.
"She has two personalities," said Humphrey of the star of his popular blog. "She's all play, pure dog, running on the beach, chasing other dogs. The other side is like Eeyore. She'll be standing in the middle of the room doing nothing with her head down."
During the past 18 months that man and dog have been together they have traveled across America mostly living in Humphrey's pickup truck since he quit his job as professional fashion photographer in 2011.
Article continues below advertisement
"One day I just woke up and didn't want to live that story," he explained. "I wanted to be able to look at my kids one day and say, 'I took a big risk and I loved it.'"
His sidekick on the adventure couldn't be happier to live a life on the road.
"She's so adaptable. The only constant in our life has been my pickup truck," says Humphrey. "It's mostly been something new every day. New setting, new house, new people to meet."
What began as a fun Instagram adventure has become a booming business with the launch of Why We Rescue, a month-long storytelling project that documents owners' positive experiences with rescue animals. Instead of showing sad images of abandoned pound dogs in cages, it celebrates the joy that happens after people rescue pets.
Next up is a book tour and a trip to the South By Southwest festival to promote Maddie On Things, which will sell on Amazon, as well as in indie bookstores around the country.