Steubenville Rape Case: Guilty Verdict!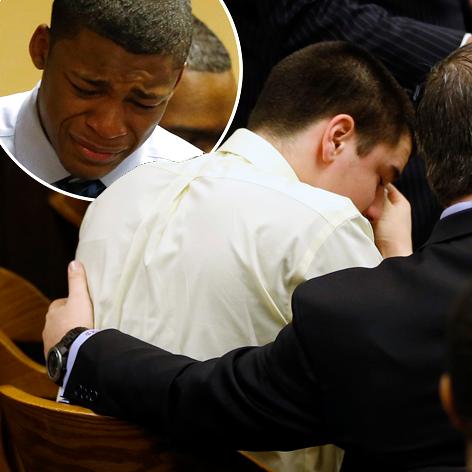 Two Steubenville star football players were found guilty Sunday of raping a 16-yer-old girl.
Judge Thomas Lipps announced his decision in the no-jury case, finding 17-year-old Trent Mays and Ma'lik Richmond, 16, both guilty in the case that had divided their football-crazed town and riveted the nation.
Tried as juveniles, they both face being jailed until they turn 21.
Article continues below advertisement
RadarOnline.com has been covering the case, where just yesterday the victim took the stand and broke down when describing what had happened to her.
The girl, who was allegedly extremely drunk and who believes she may have been drugged, was partying with the boys last August. She passed out and had no recollection of what happened to her until she woke up "with no clothes on."
It wasn't until the next day when she learned of all the text messages and videos about the night and even videos of boys talking about raping her, that she began to understand what happened.
MORE ON:
Celebrity Justice
One of the most damaging pieces of evidence was a photo of the accused carrying the apparently semi-conscious girl by her hands and legs was posted on Instagram.
Mays and Richmond sobbed as the verdict was read.
Story developing....