Spot Who's Soon To Be Much Moore Wealthy! Demi Looking Healthy & Happy As Divorce Battle Heats Up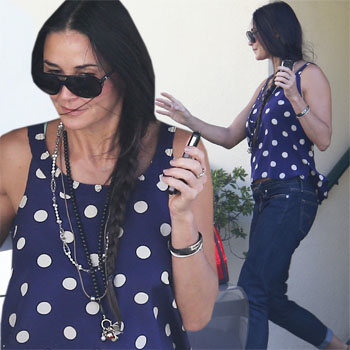 If the best revenge is looking good then Demi Moore has definitely accomplished her goal!
The 50-year-old actress left a nail salon in Beverly Hills on Thursday and RadarOnline.com has the photos of her looking healthy and happy.
With her brown hair in a long braid Demi was wearing a sleeveless blue and white polka dot top that showed off her toned arms.
The jeans that she wore low slung around her waist showed off her trim figure, a healthy rebound from how scary skinny she was following her split from Ashton Kutcher.
Article continues below advertisement
Demi is now locked in a brutal legal battle with her ex, and is asking for spousal support in their divorce.
"He humiliated her and then he treated her badly, which she didn't expect and it really made her mad. She basically wants to hurt him the way he hurt her, and this is the only way she knows how," a source told RadarOnline.com about her reason to go after his money.