Is That You Demi? Moore, 50, Is Covered In Mud At Bikini Boot Camp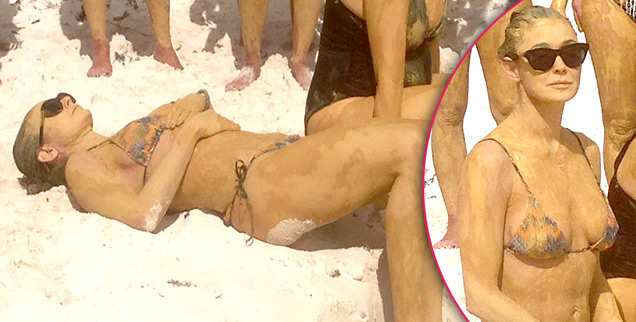 Demi Moore's sexy body was on display at a bikini boot camp in Mexico last month, and we've got the just-released pics for you right here on RadarOnline.com.
On the outing, the Indecent Proposal star was slathered in (skin-replenishing) mud, though that didn't hide her sleek figure, as the 50-year-old boasted toned legs and a flat stomach.
As we previously reported, Demi's Christmas week trip with two friends came just after Ashton Kutcher filed for divorce after more than a year of separation, citing "irreconcilable differences."
Article continues below advertisement
Sources told Star that the Ghost star enjoyed the holiday week at the fitness-themed Amansala resort in gorgeous Tulum, Mexico. There, she kept an itinerary of Mayan clay and meditation sessions, yoga, Zumba dancing, circuit training, meditation and hot hook-ups with younger men!
"Over the course of the week, I would say there were three guests and five male employees who interacted with her quite closely," a resort worker said. Moore "was clearly after younger men on this trip; they were all about 28 to 33.
"There were three or four older guys staying at the resort, 50-plus, and I don't think she talked to them at all."
Demi clearly channeled her inner cougar for her sojourn south of the border, as a source said "she was very chatty, making giggly jokes, very touchy feely, complimenting some of the hunky trainers at the resort on various things.
"She was incredibly flirty. She would start off quite awkward, and then she was very flirty, very chatty and hands on, giving and receiving massages in front of other people."
Article continues below advertisement
In one instance, a source said, the G.I. Jane star "went over to one of the staff, she went and sat right on his chair with him and was like kind of rubbing him. They were taking turns giving each other massages. She also flicked her hair a lot in a flirty way."
The resort fielded a call from a guest stationed underneath Demi's room, grousing that her "very, very loud sex" had been keeping them awake, the source said.
While it's clear Demi's doing fine physically, her mental well-being came into question as her behavior -- just days after Kutcher making it official, ran hot and cold at times -- sources said.
"Demi almost came across as, I wouldn't go as far as to say bipolar, but up and down," one source said, while another said that Demi's "back-and-forth behavior just kind of killed the mood.
"She seemed incredibly loopy all the time, during her classes she was a bit crazy -- dancing and waving her head around all weird."
Eyewitnesses said Demi's oddball antics might have been a by-product of her diet -- a non-stop flow of the potent energy drink, Red Bull.
"She was drinking Red Bull everywhere," a guest said. "She showed up with a case or two of it. Even during her yoga classes, she was drinking Red Bull."