Exclusive
The Wrath Of Anne! Hatha-Hater James Franco Upsets Les Miserables Star Once Again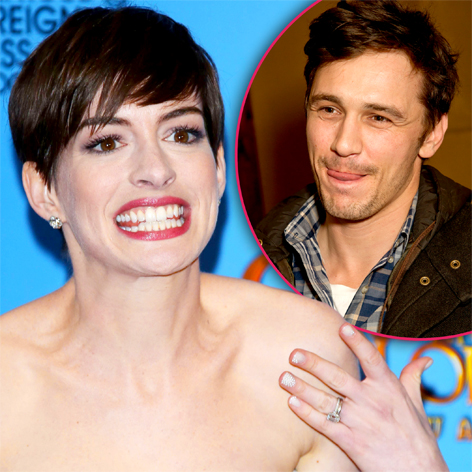 James Franco said Anne Hathaway wasn't going to be happy that he was discussing their strained relationship during his interview with Howard Stern on Monday - and he was right!
RadarOnline.com has exclusively learned that the Spring Breakers actor's chat with the shock jock didn't go unnoticed by the Les Miserables star who is fuming that Franco has drudged up their past yet again in a radio interview.
Article continues below advertisement
Anne, 30, just can't understand why James, 34, couldn't just say "no comment." Worse still, she thinks Franco was using her name just to help promote his latest movie!
"Anne can't believe James has openly discussed the past and how they aren't really on talking terms anymore," a source tells Radar.
"She thinks he did it purely to drum up publicity for Spring Breakers. But, as far as she's concerned, James pulled an unprofessional move by talking about her during the interview with Howard Stern.
"Stern did provoke Franco, but he didn't have to respond. And she couldn't believe that he said he understands why people dislike her.
"Anne would never air her dirty laundry in public and is intensely private. It's opened up old wounds, is totally unnecessary and she's fuming," the source reveals.
As RadarOnline.com previously reported, Franco was a guest on Stern's Sirius XM radio show when he admitted he and Anne "haven't talked in a while."
Article continues below advertisement
From the offset, Franco told the host that Anne, 30, would not be happy he was talking about her.
"I'm happy to revisit this, but you're going to have to take the lead. If you're going to talk about it, you're going to have to give your opinions . . . She does not want me talking about this, but okay," Franco started off.
"Everyone sort of hates Anne Hathaway, and I've explained that I do too and I don't know even know why sometimes," Stern began.
"She's just so affected actress-y that even when she wins an award she's out of breath, and then she has the standard joke that sounds like it's written. And it all seems so scripted and acted."
He continued: "She comes off like the goody two-shoes actress and it's just fun to sort of hate her. Hate is a strong word . . . but dislike her, even though she is a great actress. Is that accurate?"
"I'm not an expert on – I guess they're called 'Hatha-haters' – but I think that's what maybe triggers it," Franco said diplomatically.
Their beef with each other started when Hathaway was less than impressed by comments Franco made about her during an appearance on The Late Show following their 2011 Academy Awards fiasco, comparing her to a "Tasmanian devil."
But during Monday's interview with Stern, he insisted: "Anne and I made up, by the way. Let's just get that on the record."