Didn't He See Her Gushing BAFTA Speech? Manolo Blahnik Slams 'Forgettable' Anne Hathaway 'What Is It About Her?'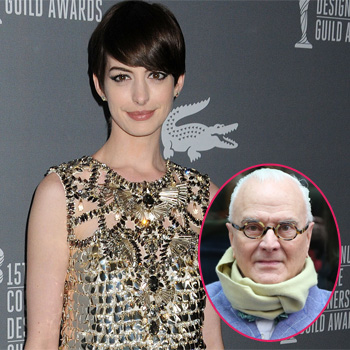 And the Oscar goes to…?
Anne Hathaway had better hope her performance in Les Miserables is more memorable than her personality because according to Manolo Blahnik, the actress is quite forgettable.
The shoe designer dismisses the Oscar-nominated actress in a chat that appears in the latest issue of Interview magazine.
The 70-year-old says: "Anne Hathaway…Pretty? Yes.
"Wonderful actress? Yes. But, I mean, I don't even remember her. What is it about her?"
Article continues below advertisement
When fashion writer Tim Blanks suggests the actress was "very good" as Cat Woman in the Batman movie The Dark Knight Rises, the designer gives a stinging response.
"As Cat Woman, yes," he said. "And I'm not saying she's not beautiful or a great actress. I just don't remember her."
But the 30-year-old shouldn't feel too badly. Blahnik has lumped her co-star Amanda Seyfried into the same instantly forgettable category.
In contrast he says that Sherilyn Fenn and Lara Flynn Boyle – who made their names in the 90s cult TV series Twin Peaks – have left more of an impression on him.
The Spanish designer says they're "old school girls like Elizabeth Taylor."
"They should be working now instead of those anonymous girls. They're all the same," he says.
"I don't even know Amanda Seyfried or whatever – they're all the same! I try to remember.
"The only one I remember is Julia Roberts because she's particular."
He also has a penchant for Salma Hayek, whom he says he "almost fainted on" when he bumped into her at the Savoy Hotel in London.
"But she's a sweet girl, beautiful. I love that," Blahnik muses.