And The Oscar For Most Cringe Worthy Moment…Goes To… -- The Top Ten Infamous Academy Award Gaffes!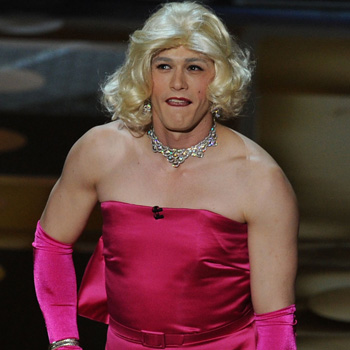 Oscars history is riddled with cringe-worthy moments, and to kick off the Academy Awards weekend, FoxNews.com picks 10 of the worst.
From James Franco's cross dressing to Angelina Jolie's overly enthusiastic brotherly love PDA, the feature is chock full of gaffes.
Tune in this Sunday to the 85th Academy Awards to see who's next to end up in Oscar infamy — and be sure to keep checking in with RadarOnline.com as we will be bringing you all the red carpet coverage, arrivals photos, best worst and wackiest dressed evaluations, a live blog of the winners and ceremony highlights in addition to all the best backstage gossip.
Article continues below advertisement
In the meantime, visit FoxNews.com for 10 frightful moments from the iconic awards show.