Sealed Documents In Newtown School Massacre Released After Families Told Of Findings – Read The Search Warrants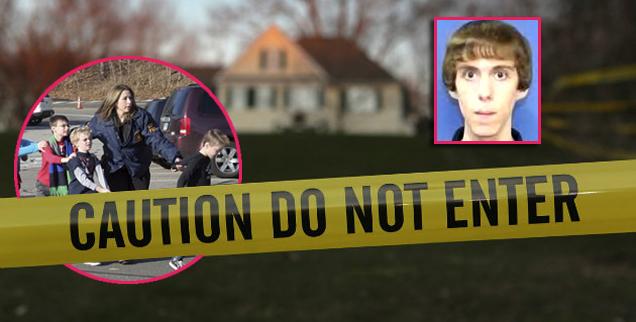 Authorities in Conn. released redacted search-warrant documents in the Dec. 14 massacre at Sandy Hook Elementary School Thursday, three months into the ongoing investigation of the incident and its' perpetrator, Adam Lanza - and you can read them on RadarOnline.com.
VIDEO: Parents Of Sandy Hook Victim Sit Down With Shooter's Father
As we previously reported, Lanza, 20, shot his mother Nancy with a .22 rifle as she slept, before taking an arsenal of her firearms to the school, where he gunned down 20 first-graders and six staffers.
Article continues below advertisement
Court Documents: Read The Search Warrants In Newtown School Massacre
The shocking documents -- detailing what police retrieved from Lanza's automobile and home -- were made public by the Chief State's Attorney's Office just hours after police apprised about 50 members of the victims' families of the discoveries.
Among the items found in Lanza's home were: a military uniform; seven journals containing "personal notes, memoirs and thoughts;" drawings; three images of dead bodies; more than 1,000 rounds of ammunition; three samurai swords; knives; more than 1000 ammo rounds; a book detailing Asperger's Syndrome; video game consoles like X-box 360 and Sony Playstation; a gun safe; notes about gun shops; and a spreadsheet tracking mass murderers.
Article continues below advertisement
All of the weapons recovered were purchased by Lanza's mother, his first casualty on the bloody Friday. FBI officials characterized the Sandy Hook shooter as a reclusive "avid gamer" who preferred Call of Duty and other violent video games.
Not all of the info was made public at the request of investigators, so as not to "identify persons cooperating with the investigation, thus possibly jeopardizing their personal safety and well-being."
The FBI will examine Lanza's writings to build a psychological profile, and the investigation won't be finished until at least June, officials said.