Spies, Mass Murderers & Drug Lords! Meet The Most Dangerous Women In The World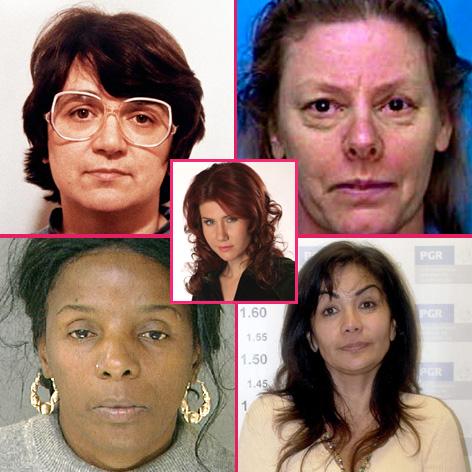 From war heroines to hard-as-nails killing machines, the strength and cunning of a woman should never be underestimated - no matter how pretty she is!
As the ongoing explosive murder trial of Jodi Arias continues to reveal – whether she killed Travis Alexander in cold-blood or in self-defense as she claims - even a petite, church going, seemingly innocent, respectable looking young woman is capable of inflicting the most horrific injuries and pain.
Article continues below advertisement
After scouring the globe for the ultimate, consummate femme fatales, RadarOnline.com can introduce you to the most dangerous women in the world.
Aafia Siddiqui
MIT graduate Aafia Siddiqui is unwittingly front and center of the current Algerian hostage stand-off after kidnappers demanded the Pakistani mother-of-three, who is currently serving an 86-year sentence in a U.S. prison, be released.
Known as the Daughter of the Nation, the acclaimed neuroscientist was sentenced to life in prison after being found guilty of attempted murder.
According to eyewitness accounts, Siddiqui escaped from her prison cell in Afghanistan, snatched a gun and then tried to shoot the American soldiers who were holding her captive. The devoutly Muslim mother was flown to the U.S. and stood trial in New York City, near where the Twin Towers once stood - evoking memories of 9/11.
According to reports, Siddiqui first landed on the CIA's terrorist watch list after Khalid Sheikh Muhammad named her as an al-Qaeda operative while being water-boarded. The revelation of her identity resulted in the FBI issuing a global "wanted for questioning" alert for Aafia, and she was accused of being a "courier of blood diamonds and a financial fixer for Al-Qaeda."
Article continues below advertisement
Sandra Avila Beltran
Having earned the dramatic nickname, Queen of The Pacific, Sandra Avila Beltran is sure to have an interesting life story! The Mexican drug cartel leader allegedly controlled cocaine trafficking from Colombia via Mexico to the U.S. Pacific Coast for decades until her arrest in 2007 and subsequent extradition to Miami last August, where she is currently facing charges of drug possession and trafficking.
The niece of a notorious organized crime figure, Beltran, 60, is believed to have reigned over the highly profitable business from her Mexico City apartment, all the while having affairs with Colombian and Mexican drug kingpins and using her sex appeal to further her business success. The spicy seductress was twice married to ex-police commanders, both of whom became drug traffickers and were subsequently gunned down by hired assassins. Beltran's rise to the ranks of criminal infamy has been further cemented by her most recent relationship with Juan Diego Espinoza Ramírez, alias The Tiger.
Article continues below advertisement
Kimberly McCarthy
Scheduled to become the first woman, on April 3, to be executed in the U.S. since 2010, Kimberly McCarthy was sentenced to death for the 1997 robbery, beating and stabbing of her neighbor, 71-year-old Dorothy Booth. The excessively violent crime occurred after McCarthy called by to borrow a cup of sugar, but while waiting, attacked Booth, slamming her hand on a chopping block and slicing off her finger to steal her wedding ring.
The former nursing home therapist is believed to have also murdered at least three other elderly, defenseless women, all of whom were brutally bludgeoned, in a bid to fund her heavy crack cocaine habit .
Anna Chapman
Russian spy and ravishing redhead Anna Chapman was at the heart of a scandal that could have been ripped straight from the pages of a James Bond novel after it emerged that she and her counterparts were sent to the U.S. by the Russian government as part of an undercover spy ring to gather important American intel.
Article continues below advertisement
She was investigated by the FBI while living in New York and arrested on June 27, 2010, along with nine others, after they were exposed as Russian spies. Since being deported back to her homeland, Chapman, 30, has since made light of her illicit career by strutting the catwalk modeling skimpy costumes while holding a gun to a model's head.
Rosemary West
Despite her shocking story being fully played out on British TV screens recently in a drama starring The Wire's Dominic West (no relation), Rosemary West remains one of the most evil and elusive women alive in England. She is currently serving a life sentence for the murder of 10 young women - one of which was her own child - and is suspected of killing and sexually assaulting many more, with her husband and partner-in-crime, Fred West.
The sick couple began their reign of terror during the 1970s, when they transitioned from prostitution and sexual abuse – which included Rose's own father soliciting her and then raping Fred's daughter Anne-Marie – to murder. Rose's first known victim was Charmaine West, the daughter of Fred's previous wife Rena, who was killed in June 1971, and buried in the murderous couple's previous home in the quiet suburban city of Gloucester.
Article continues below advertisement
The mother-of-eight also killed her own daughter Heather, who after being raped repeatedly by Fred, was buried in the garden, along with other victims, of their now infamous home at 25 Cromwell Street. The backyard burial plots only came to light after Fred and Rose were arrested for rape and child cruelty in 1992, and police realized that Heather had not been seen since 1987.
In 1995, Rose became the second woman in modern England (where there is no death penalty) to be sentenced to life without parole. Meanwhile, Fred ultimately evaded justice by committing suicide while awaiting trial.
Cheryl Ben-Tov
Members of Israel's Mossad are normally mysterious figures, but one former agent has come forward to reveal her experience as a sexy undercover spy, during which time she lured a former nuclear technician to go on a "romantic" visit to Rome, where he was kidnapped and transported back to their homeland for a secret trial.
Born in America to a Jewish family who moved to Israel when she was young, Ben-Tov, then known as Cheryl Hanin, enlisted in the army in 1978 and went on to marry an intelligence officer and was subsequently enlisted by Mossad, where she assumed the name Cheryl Ben Tov, or simply "Cindy."
Article continues below advertisement
As members of the elusive secret service, women are taught how to shadow a target; to create a dead-letter box and to break into a hotel room, amongst other covert skills, and Ben Tov was adept at assuming identities -- posing as a drunk and chatting up male targets in bars.
However, her role as femme fatale in the Mordechai Vanunu incident was the last straw for the married mother-of-two who then "burned out" and retired to Orlando, Florida, where she now works as a realtor and lives with substantially less drama, along with her family.
The Real-life Maya From Zero Dark Thirty
The true identity of the female CIA agent portrayed in the Oscar nominated movie, Zero Dark Thirty , by Jessica Chastain, has never been revealed but her achievements in the war against terrorism and involvement in the hunt for Osama bin Laden are now infamous.
The operative, who remains undercover to this day, was given a prestigious award for her work but has since come under fire for both sparring with her colleagues and for her involvement with the filmmakers on the highly-acclaimed Kathryn Bigelow movie.
Article continues below advertisement
"She's not Miss Congeniality, but that's not going to find Osama bin Laden," a former CIA associate told the Washington Post, revealing how she had become an object of jealousy among other agents.
"She's real," Chastain told CBS News about the inspiration for Maya. "She doesn't look like me. I couldn't be more different than her in that I'm a very emotional girl. And this is a girl who's trained to be unemotional and trained to be analytically precise.
"Hopefully, through playing (Maya), it's thanking her and giving her credit for what she did because she's one of the unnamed ones that can never take credit because she's undercover."