JonBenet Ramsey Murder Mystery Revived - The Tragic Cold Case's Top 10 Controversies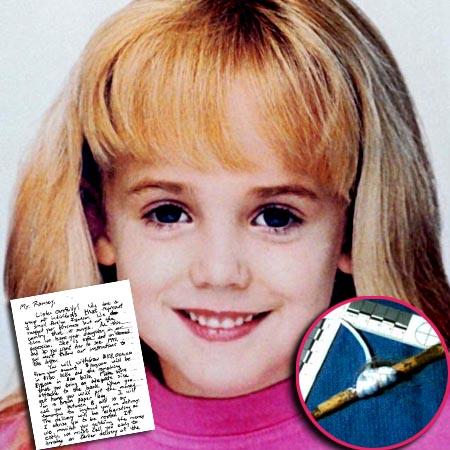 Proving that fact is often stranger than fiction, the JonBenet Ramsey murder case had all the makings of a Hollywood "whodunit," and the tragic story of the slain pretty little girl in heavy makeup and frilly costumes still captures the nation to this day.
Throughout the 16 years since the body of the six-year-old beauty queen was found strangled with a tweed cord in the basement of her parent's home in Boulder, Colorado, there have been countless twists and turns in the investigation, and RadarOnline.com is revealing the high-profile case's top ten controversies.
Article continues below advertisement
1. The first – and biggest – blunder in the investigation was the inadequate search carried out by police on the morning of December 25, 1996, after JonBenet was first reported missing. The officers didn't venture into the basement of the house until after John Ramsey went down to the make-shift wine cellar with some friends and discovered his daughter's lifeless little body.
2. Rather than immediately sealing off the crime scene when it was clear a horrific incident had occurred, friends of the family were allowed to walk in and out of the Ramsey home freely on that fateful Christmas Day, ruining crucial forensic evidence. The matter was made even worse by JonBenet's body being moved from its place of discovery before all the potential evidence was gathered and documented.
3. A hostile relationship between the District Attorney's office - under the leadership of Alex Hunter and his "dream team" task force – and the Boulder Police Department further hindered the investigation and threatened to turn the case into a personal vendetta between the two sides. Former Police Commander John Eller reportedly claimed that Hunter went as far as to pay someone to dig up dirt on him in a bid to smear his reputation.
Article continues below advertisement
4. The lengthy ransom note that was found in the Ramseys' kitchen remains one of the most tantalizing pieces of evidence, with lead investigators claiming it was Patsy's handwriting and linking coded messages in the note to her deeply religious beliefs, including the demanded ransom amount of $118,000 which they claimed related to Psalm 118, Verse 17 which Patsy recited every night.
Expert Steve Thomas stated that out of 73 suspects whose writing samples were analyzed, Patsy's was the only one that could not be excluded as possibly being that of the author. However, the analysis is considered unreliable especially as the broad fiber-tip pen used on the note distorts and masks fine details in style and stroke direction. There was also speculation over how the killer had time to write a "practice" note, and why there was a ransom demand made in the first place when JonBenet was already dead.
5. The inexperience of the Boulder police force, who had never worked on a crime of this magnitude before, also had a negative effect on the investigation, with many critics slamming them for not asking for help from outside agencies.
6. Many believe that with her pretty blonde looks and beauty pageant background, JonBenet was a perfect target for the child porn industry and the human traffickers who steal children for the illicit business. However, this angle was never fully investigated, and a local photographer who had been reported as asking to take nude or semi-nude photos of child pageant contestants, was reportedly overlooked by the police as they were allegedly "fixated" on other theories.
Article continues below advertisement
7. Despite it being a mid-winter in Colorado, there were no footprints discovered in the snow around the Ramsey house, leading many to jump to the conclusion that it must of been an inside job. "Strange, no footprints," commented one officer at the scene in his report, but further video investigation by reporters revealed that there wasn't snow going up to all of the doors, so it was "much ado about nothing" as an intruder could have easily entered without leaving tell-tale trails.
8. Another controversy sprang up after information was leaked that there had been no signs of forced entry at the property, once again (falsely) implying it was an inside job. However, as a police report on December 26 noted there were a number of open windows – including a broken basement window - and at least one open door at the home, therefore an intruder would not have needed to force entry to break in. JonBenet's bedroom was on the floor below her parents with a walkway of thick carpeting that allowed for a soundless approach by an assailant.
Article continues below advertisement
9. Rather than supporting the Ramseys in their time of need, Boulder Mayor Leslie Durgan added fuel to the fire of speculation in a press conference by stating that there didn't appear to be an intruder and the locals had "no need to fear that there is someone wandering the streets of Boulder, as has been portrayed by some people, looking for young children to attack. Boulder is safe, it's always been a safe community and it continues to be a safe community." The announcement outraged the victim's family as they believed that it was obvious her killer was still on the loose.
During a 1997 interview, Durgan explained her reasons for making the announcement: "It was done in large part to allay the fears of children in our community and to let people know that the information that I had at that time was that we did not have some crazed person wandering the streets of University Hill," she said, adding that her information came from the police chief, reported TruTV.com.
10. The first formal interviews with John and Patsy Ramsey after the murder didn't occur until April 30, 1997, well over a year after their daughter's death, and the couple had previously been heavily criticized by the DA for their lack of cooperation in the investigation. They went on to agree to take a polygraph test as long as it was conducted by an independent expert in Atlanta and have the results made public – criteria that led to many points of contention between the Ramseys and investigators.
Article continues below advertisement
The lie-detector tests were eventually conducted by Ed Gelb, who announced that the findings had cleared them of any involvement in their daughter's death, which immediately sparked the Boulder police to dub it as a "publicity campaign," reiterating that only a law enforcement agency could give a reliable result.
The Ramseys have always maintained their innocence, and were fully exonerated of any involvement in their daughter's death.
The murder case remains unsolved. If still alive today, JonBenet would now be 22.