Exclusive
Poor Demi! Moore Snubbed By Ex-Bestie Madonna -- Invites Ashton Kutcher To Oscar Bash Instead!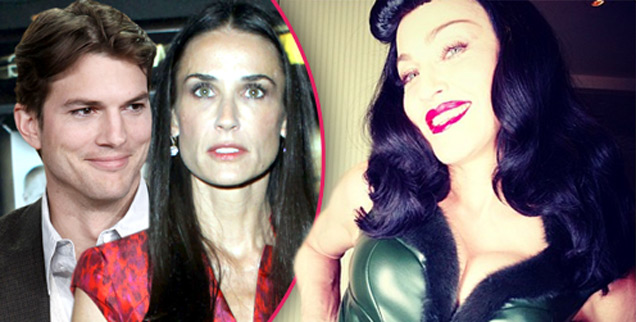 Anyone who has been through a nasty breakup knows that friends quickly pick sides -- but nobody expects their former "bestie" to choose their ex over them!
That's what's happened to Demi Moore though, after she was snubbed by Madonna -- who invited Demi's soon-to-be ex-husband, Ashton Kutcher to her annual A-lister Oscar bash, rather than the actress -- and RadarOnline.com has all the exclusive details.
Article continues below advertisement
"Madonna is firmly on side Ashton," a source close to the situation tells RadarOnline.com. "She adores him and thinks that out of him and Demi he's the one with the glittering career. Also, Madonna loves having Ashton around as he's great eye candy, he's funny and he flirts outrageously with her -- In Madonna's eyes, there's no competition - when it comes to picking sides Ashton is the obvious winner!"
Demi's absence at the star-studded bash was the talk of the night, according to one party goer, who tells RadarOnline.com everyone was shocked when they saw Ashton rather than Demi walk through the door.
"When Ashton walked in it got the crowd buzzing!" The eyewitness says. "Madonna's never spoken about the split, but it's obvious she's sided with him over Demi. It was kind of shocking as Demi has even hosted the party with Madonna in the past, so it's even more of a mega snub! Madonna clearly loves Ashton though, they were dancing together a lot throughout the night and flirting up a storm!"
Madge's party, which she holds each Academy Awards night at her manager Guy Oseary's mansion, was THE place to be Sunday night if you are ANYONE in the Industry.
Article continues below advertisement
John Travolta, Bradley Cooper, Daniel Day Lewis, Channing Tatum, Anne Hathaway, Ryan Gosling & Eva Mendes, Jack Nicholson, Selena Gomez, Salma Hayek, George Clooney and Leonardo Dicaprio were among the hundreds of Hollywood heavyweights partying till the wee hours.
However, despite the mega-star power, Madonna was -- as ever -- the center of attention!
RadarOnline.com's eyewitness says the singer looked absolutely stunning in a dark brunette wig with short bangs.... and then there was her clothing! Looking way younger than her 54 years, Madge changed twice during the party into risque, form fitting corsets.
Despite the prevalence of A-list talent, Madonna still managed to keep the bash a family affair (sort of) -- dancing with her kids right up till four am!
But don't expect to see a single photo from inside the star studded soiree -- the source says Madonna had a strictly enforced no camera policy to ensure everybody could party in private.