Antarctic Royal Penguin Found Stranded 1,000 Miles From Home In New Zealand Tragically Dies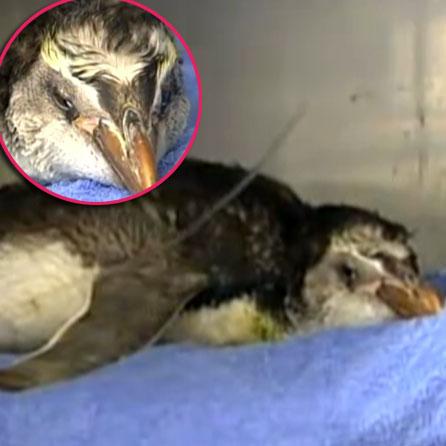 An ailing royal penguin who was discovered by hikers Sunday stranded on a New Zealand beach more than 1,000 miles from his Antarctic home, has tragically died, RadarOnline.com is reporting.
The young male bird, estimated to be around one year old, was found dehydrated, starving and suffering from kidney failure at Tora beach, on the coast south of Wellington, reported ABCnews.com.
Nicknamed Happy Feet Jr. - after the plucky emperor penguin who famously lost his way last June – he is believed to have originated from a breeding colony in the sub-Antarctic Macquarie Island and is only the fourth of his species to end up on New Zealand soil.
Article continues below advertisement
Happy Feet Jr. was rushed to the Wellington Zoo for treatment, but sadly was not able to be saved due to the severity of his condition and died from suspected multiple organ failure.
Veterinary Science Manager, Lisa Argilla, said the zoo did all they could to save his life but he was severely underweight and had no reserves.
Sadly, the original Happy Feet, is thought to have also died, coming to a gruesome end after he went missing-presumed-eaten following his release back into the wild in September.