Osama bin Laden's Killer Speaks Out: 'I Watched Him Take His Last Breaths'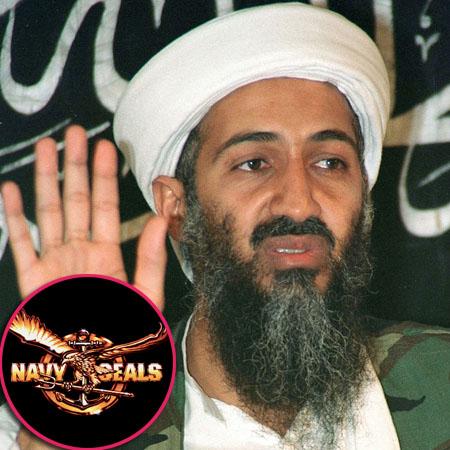 The Navy SEAL who killed the most wanted man in the world has broken his silence to reveal details on both the deadly secret raid that changed history and the tragic aftermath in his own personal life.
Known only as 'The Shooter' in the groundbreaking interview for Esquire magazine with journalist Phil Bronstein, executive chairman of the Center for Investigative Reporting, the secret operative from SEAL Team 6 is clearly still affected by his mission as he recalled the story from the safety of his backyard.
Article continues below advertisement
After hundreds of combat missions, 12 long-term SEAL-team deployments and 30 kills, the sniper was a logical choice for the job of taking down, Osama bin Laden, the man CIA director Leon Panetta called "the most infamous terrorist in our time."
"I'm not religious, but I always felt I was put on the earth to do something specific. After that mission, I knew what it was," revealed the marksman who was the last person to see bin Ladin alive.
He was put in the position to fulfill that calling by the female CIA operative who is portrayed by Jessica Chastain in the Oscar-nominated drama, Zero Dark Thirty. "We got him. This is him. This is my life's work. I'm positive," she told the team after they had embarked from Virginia on April 10, 2011, and faced the reality that they may end up either dead or in a Pakistani prison.
Their journey culminated in a helicopter ride from Jalalabad in eastern Afghanistan to Pakistan's Abbottabad and finally to the third-floor bedroom where the surprisingly tall and lean terrorist was hiding.
Article continues below advertisement
According to SEALs insiders, The Shooter was the "number two" behind the raid's point man going up the stairs to bin Laden's third-floor residence, and then rolled through the bedroom door solo and confronted bin Laden as he pushed his youngest wife, Amal, in front of him through the dark.
"And he's moving forward. I don't know if she's got a (suicide) vest and she's being pushed to martyr them both," he recalled. "He's got a gun within reach. He's a threat. I need to get a head shot so he won't have a chance to clack himself off (blow himself up).
"In that second, I shot him, two times in the forehead. Bap! Bap! The second time as he's going down. He crumpled onto the floor in front of his bed and I hit him again, Bap! Same place," revealed the SEAL.
"That time I used my EOTech red-dot holo sight. He was dead. Not moving. His tongue was out. I watched him take his last breaths, just a reflex breath."
Once the initial shock of the kill wore off, the Shooter looked around the room while his colleagues cleared out computers and spotted what at first he thought was vacuum-sealed food, but on closer inspection realized it was raw opium. "These drugs are everywhere. It was pretty funny to see that," he revealed.
Article continues below advertisement
Upon returning to base, he handed the magazine from this rifle – minus three bullets – to the female CIA agent brought to infamy in director Kathryn Bigelow's blockbuster. "I hope you have room in your backpack for this,'" he told her as he handed over the gun with 27 bullets left in it. "That was the last time I saw her."
As expected, Hollywood took creative license retelling the daring story, including that the raid took much longer on the big screen than it did in real life – when it was over in 15 seconds.
Article continues below advertisement
"They SEAL command told me they could get me a job driving a beer truck in Milwaukee," he said, but declined because he didn't want to leave his loved ones. "We'd lose everything."
Sadly, his marriage may already be lost as although they still live together for financial reasons, The Shooter and his wife are separated, and she has grown to live with the fact that "my family is always going to be at risk."
He has also lost his health insurance, as he bitterly told the San Francisco news veteran, "I left SEALs on Friday. My health care for me and my family stopped at midnight Friday night. I asked if there was some transition from my Tricare to Blue Cross Blue Shield. They said no.
"'You're out of the service, your coverage is over. Thanks for your sixteen years. Go f**k yourself.'"
On May 1, 2012 – the first anniversary of the infamous raid, the now retired sniper was watching CNN while getting ready to go play with his kids at a water park.
"They were saying, 'So now we're taking viewer e-mails. Do you remember where you were when you found out Osama bin Laden was dead?' And I was thinking: Of course I remember. I was in his bedroom looking down at his body."
The full interview between the Shooter and Phil Bronstein is in the March issue of Esquire, or at Esquire.com.