PHOTOS & VIDEO: Americans Celebrate bin Laden's Death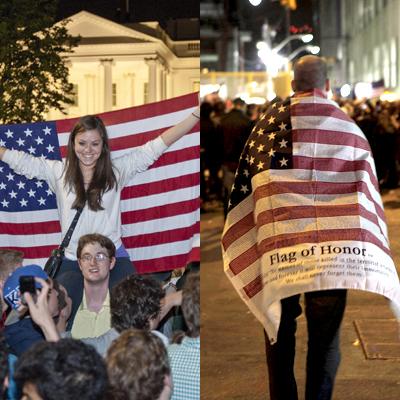 From the White House to Ground zero, Americans were out celebrating the killing of 9/11 mastermind Osama bin Laden on Monday.
In Washington D.C., masses of people huddled at Capitol Hill and in front of the White House. Some were singing the chorus of the Steam classic, Na Na Hey Hey Kiss Him Goodbye.
Bin Laden's demise is "huge," said Will Ditto, a 25-year-old legislative aide. "It's a great day to be an American."
Article continues below advertisement
Defense lobbyist Marlene English told the AP, "It's not over, but it's one battle that's been won, and it's a big one!"
In celebrations at New York flashpoints like Ground zero and Times Square, people waved flags and pictures of the World Trade Center towers taken down by the terrorist nearly 10 years ago. Signs seen in the crowd read, "Obama 1, Osama 0" and "Osama Been Gotten."
"We've been waiting a long time for this day," said New Yorker Lisa Ramaci, a widow whose journalist husband died covering the Iraq war. "I think it's a relief for New York tonight just in the sense that we had this 10 years of frustration just building and building, wanting this guy dead, and now he is, and you can see how happy people are."
Guy Madsen, 49, traveled into the city from Clifton, New Jersey to celebrate bin Laden's death.
"It's really a terrific day for not just America but for the world," Madsen said. "To have this cancer pulled from us is the right thing.
Watch the video on RadarOnline.com
"This is judgment day, and we're winning."