A Model's Not-So Glamorous Life! Sleep Deprivation, Caffeine & Nicotine Diet & Living In A Dorm!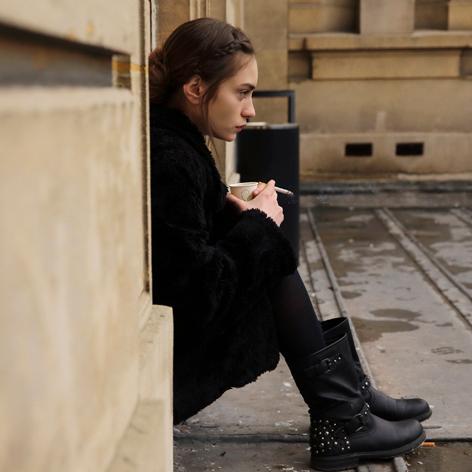 A day in the life of a drop dead gorgeous fashion model is nowhere near as glamorous as you would think!
French beauty Marine Deleeuw, an 18-year-old model who made her debut on the catwalk during the New York Fashion Week Spring 2013 shows in September and nabbed a spot on Style.com's top 10 models of the season, is the subject of a shocking new photo essay revealing the lonely, sleep-deprived and grueling work schedule of an aspiring top model – and RadarOnline.com has the photos and details.
Article continues below advertisement
Taken over two days in Paris, where the super skinny brunette was getting ready for the haute couture shows, the teenager, who is rarely snapped with a smile on her flawless face, exposes the hardships of the industry.
Between bouncing back and forth between castings, fittings, meeting with her modeling agents, getting her hair and makeup done and hustling to the runway shows themselves, Marine's only solace seems to be puffing on cigarettes and drinking coffee by herself, huddled on freezing doorsteps – she is never photographed eating food.
And while you may think that catwalk models reside in luxurious hotel suites when they are in town for Paris Fashion Week, the reality couldn't be any more the opposite! Marine is shown making her twin bed in a cramped dingy looking models' apartment, where several girls sleep in the same room, dormitory style.
So, how does she keep it together and avoid getting sick, despite barely sleeping or eating and running around nonstop? She tells Reuters that she will "rest the most I can, take vitamins, and do everything possible not to fall ill."
After her crazy two days in Paris, she returned to her own apartment, stuffed her suitcase to the brim and hopped straight on a flight to New York to do it all again for the Fall 2013 shows, which start February 7th.